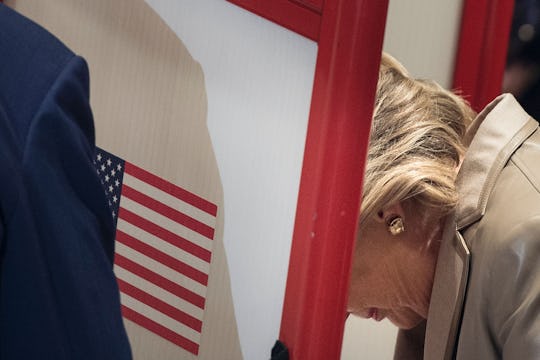 BRENDAN SMIALOWSKI/AFP/Getty Images
Hillary Clinton Casts Her Vote In New York & It's History In The Making
Election Day is here, and it's a landmark day for all Americans — but there's no denying that it's probably the single biggest day of Democratic presidential nominee Hillary Clinton's life. The results of today's election will not only determine whether she will lead the Democratic Party to the White House, but also whether she will become the country's first-ever female president, with countless men and women throughout the country supporting her along the way. According to TODAY, she's just taken one very symbolic step to making that happen: Hillary Clinton has cast her vote in New York, and it's literally history in the making.
According to ABC 7 New York, Clinton arrived in Chappaqua, New York, earlier this morning at around 8:00 a.m. to cast a ballot. She arrived in the state at approximately 3:30 a.m., greeted by hundreds of her supporters who literally waited out in the cold in the middle of the night to meet her and cheer her on. After voting, ABC 7 News said she headed to the Peninsula Hotel in Midtown Manhattan, which is expected to be her base while she prepares for the final day of what has really become an unprecedented election.
According to The Daily Mail, Clinton arrived at the polls with her husband Bill by her side, and expressed how grateful she is to be voting for herself for president. She told the waiting crowd,
It is the most humbling feeling. Because I know how much responsibility goes with this and so many people are counting on the outcome of this election, what it means for our country and I will do the very best I can if I'm fortunate enough to win today.
Clinton's running mate, Democratic vice presidential nominee Tim Kaine, also cast his vote this morning, arriving at his polling location in Richmond, Virginia, bright and early at 5:50 a.m. But Kaine was actually second in line — according to The Daily Mail, 99-year-old Minerva Turpin was first to cast her ballot, and afterward was there to personally place an "I Voted" sticker on Kaine's jacket. (Kaine commemorated the moment in a tweet, in which he quipped, "looks like I need to get used to being number 2!")
Although Clinton and her team certainly don't appear to be slowing down at all today (and no wonder — this is the day they've all been waiting for), they certainly had a busy day Monday, on the last full day of campaigning before the polls opened. According to People, Clinton appeared at a final, star-studded rally in Philadelphia that evening, alongside the Obamas, and later headed onto Raleigh, North Carolina, for one last, late-night campaign stop.
According to People, Clinton's opponent, Republican presidential nominee Donald Trump has yet to cast his vote, but is expected to do so in New York later today.