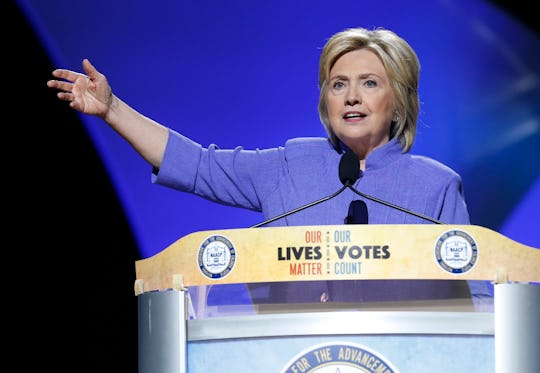 JAY LAPRETE/AFP/Getty Images
Hillary Clinton Chooses Tim Kaine As Her Vice President & Running Mate For 2016
It seems like American voters have been waiting forever for the news of who would be on the ballot this November, but it's finally official. Just about a week after Republican nominee Donald Trump announced that Indiana Gov. Mike Pence was his pick for Vice President, former Secretary of State Hillary Clinton has chosen Tim Kaine as her running mate. The Associated Press broke the news Friday after it was confirmed from multiple sources.
Pundits and voters alike have been speculating for months, with CNN narrowing down its guess to either Virginia Sen. Tim Kaine or Agriculture Secretary Tom Vilsack on Thursday. New Jersey Sen. Cory Booker was rumored to have met with Clinton last Friday, and many voters held out hope that Clinton might pick Massachusetts Sen. Elizabeth Warren, who leans more liberal than Clinton, as a consolation prize for disenchanted supporters of Vermont Sen. Bernie Sanders. Housing and Urban Development Secretary Julian Castro, Colorado Gov. John Hickenlooper, and Retired Admiral James Stavridis' names were also mentioned as possible VP picks.
But in the end, Clinton decided that Kaine was the best man for the job. On The Rachel Maddow Show in April, Clinton vowed to appoint a cabinet that "looks like America," meaning 50 percent women, so it looks like she's holding to that 50/50 split so far.
According to The New York Times, Clinton chose the 58-year-old senator as a running mate because he, "had the qualifications and background and the personal chemistry with her to make the ticket a success." And if you were to look at his resume, it would be hard to argue. According to his personal website, Kaine was elected to the Senate in 2012 after serving as the governor of Richmond, Virginia from 2006 to 2010. Prior to that, Kaine served on the Richmond City Council and practiced law for more than 15 years in the state.
In addition to his experience, Kaine and Clinton have very similar stances on some of the most important issues this election season. Namely, foreign policy, education and criminal justice. That being said, they also have enough differences that Kaine could be influential is swaying Independents and moderate Republicans.
Clinton's announcement couldn't have come at a better time. With the Republican National Convention over and the Democratic National Convention just days away, the news of her running mate will stir up plenty of conversation and get people more excited for the rallies next week. Here's hoping Kaine leaves a positive mark on the party.