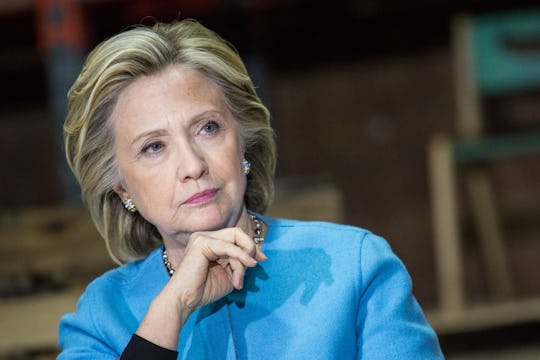 Hillary Clinton Doesn't Think Donald Trump Is Funny Anymore, & 5 Other Important People Who Agree
Many people have treated Donald Trump as the GOP primary's funnyman, the guy who says things so ridiculous that we couldn't stop paying attention to him. "No one actually wants him," I declared confidently to a table of coworkers in August. "He's just good entertainment value." It seemed like the world agreed. But after Trump proposed a ban on all Muslims entering the United States Monday, Democratic presidential candidate Hillary Clinton doesn't think Donald Trump is funny anymore. She stated as much in an appearance on Seth Meyer's Late Night Tonight Show Thursday. She added, "He has gone way over the line. What he is saying now is not only shameful and wrong, it is dangerous."
The fact is, Clinton is right. Having one person — Trump — call for scary measures is one thing, but polls show that 30 to 40 percent of Americans are not opposed to Trump's suggested ban. In fact, just over half of Republicans actually support the ban. While some are taking hope in the fact that the majority of Americans don't agree with Trump — and his numbers have dipped since he proposed the ban — it's still scary to see that a third of the nation agrees with his xenophobic measures.
Luckily, many people in power, including Clinton, are taking a stand against Trump's Islamophobia. Here's what thought leaders — including celebrities and politicians in the United States and around the world — are saying about Trump's ban: