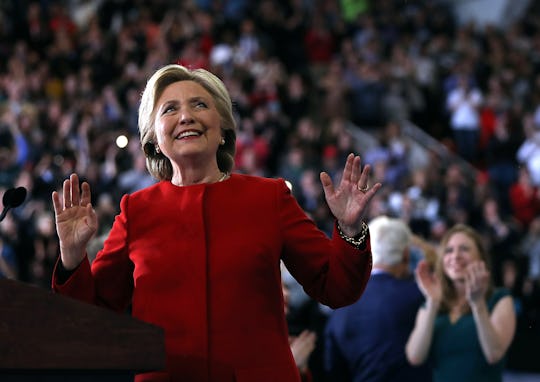 Justin Sullivan/Getty Images News/Getty Images
Hillary Clinton Election Day Memes That Will Keep You From Going Crazy
Well, after what seems like an eternity of speculation and scandal, the end to our months-long nationwide anxiety attack has finally (hopefully) arrived! Election Day is here, and voters get to head to the polls and make some history by electing either America's first female president, or America's first former reality TV star president. But the day is long, and after you've cast your vote, bragged about it on social media, and maybe even demonstrated your excellent citizenship by making some get out the vote calls, what can you do to distract yourself from potential impending doom? Why, look at Hillary Clinton Election Day memes, of course!
This election cycle has certainly given us a lot of horrible things, like an ever-expanding awareness of the racism, sexism, and general hatred festering underneath our country's surface. But, in some cold comfort, it also gave us a whole bunch of "laugh because you've already cried too much and your tear ducts aren't working anymore" election memes to treasure. There was the video of Donald Trump and Hillary Clinton singing the Dirty Dancing song at the second debate. There was the beautiful explosion of #FamousMelaniaTrumpQuotes. And, of course, for a brief shining moment before people discovered his Reddit history, there was Ken Bone.
If you thought the creative minds of social media were going to take Election Day off, you were sorely mistaken. Here are some of the best Clinton-themed memes going around to keep you from going crazy:
What will the meme-makers of the internet do once the votes are all counted, the winner is announced, and the loser has graciously conceded? (Or, if Trump loses, once the loser has potentially refused to accept the results, breaking with centuries of American tradition and possibly shaking the very core of our democracy?) Hopefully they can take a long vacation to reward themselves for keeping us all entertained and making this hellhole of an election ever-so-slightly bearable.
And of course, there are other ways to keep yourself from going insane this Election Day besides submerging yourself in memes, whether it's by watching hours and hours of Parks and Recreation to temporarily live in a world where hope always triumphs, or by drinking some very strong cocktails with your friends. But perhaps the most effective way to ward off the anxiety is to feel like you're doing something, and to that end, you can make calls to voters in swing states until the polls close.
Congratulations on making it to the finish line, fellow Americans! Enjoy the memes.