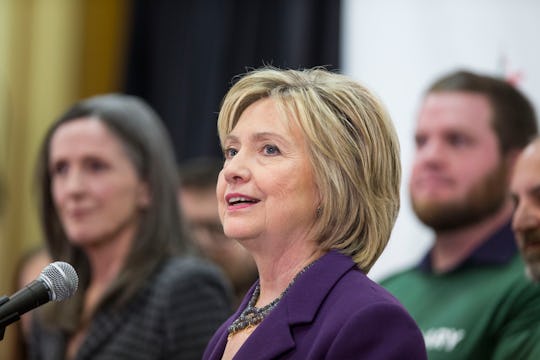 Scott Eisen/Getty Images
Hillary Clinton Has Strong Lead, Say Insiders, & It Could Mean She's A Shoe-In For The Nomination
It seems Hillary Clinton has received some fantastic news: With less than 36 hours until the second Democratic debate, Hillary Clinton has secured support from half the superdelegates in the Democratic party who get to cast ballots at the national convention. According to a poll conducted by the Associated Press, all 712 Democratic superdelegates were recently asked which candidate they plan to support next summer. Of the 80 percent who responded, Clinton received endorsements from 359, Sanders received eight endorsements, and O'Malley garned only two. The rest were uncommitted, or failed to respond.
Make no mistake, this news is huge. Not only does their backing give Clinton a substantial advantage over her rivals, but it comes months before primary voters head to the polls. It's also unprecedented, as it is early in the race for so many superdelegates to publicly back a candidate.
In order to secure the Democratic nomination, a candidate needs the backing of 2,382 delegates. The 712 superdelegates make up about 30 percent of that number. All together, this means that Clinton already has 15 percent of the delegates she needs, more than two months before voting starts. That's one sweet early lead.
So who are these superdelegates? According to Newser, superdelegates are "convention delegates who can support the candidate of their choice, regardless of who voters choose in the primaries and caucuses. They are members of Congress and other elected officials, party leaders and members of the Democratic National Committee." So you know; they're kind of a big deal.
But don't fret, Sanders and O'Malley fans — this news is far from official as of now. Plus, the superdelegates still have the ability to change their minds, and their votes. (After all, in a heated political race, anything can happen in just a few days' time, let alone a few months.) It just means the upcoming debates are that much more important.
Image: Scott Eisen/Getty Images