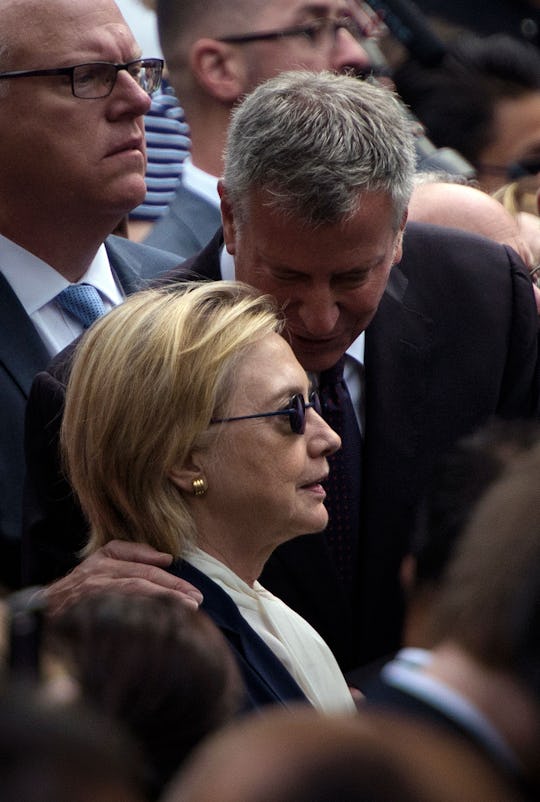 BRENDAN SMIALOWSKI/AFP/Getty Images
Hillary Clinton Leaves 9/11 Ceremony Early After Overheating, But She's Feeling Better
Attending the event to commemorate the nearly 3,000 lives lost in the September 11, 2001, attacks was so important to both presidential candidates that they both appeared at the New York City ceremony at the same time — a very, very rare move. But on this 15th anniversary of that tragic day, Hillary Clinton left the 9/11 ceremony early after overheating. According to a statement from her campaign, the Democratic nominee is now "feeling much better" after spending some time at her daughter's apartment.
Update: Clinton's doctor confirmed to multiple news outlets on Sunday that the former Secretary of State had been diagnosed with pneumonia on Friday last week. In a statement, the doctor noted that Clinton was "recovering nicely" and was on a regimen of antibiotics: "Secretary Clinton has been experiencing a cough related to allergies. On Friday, during follow up evaluation of her prolonged cough, she was diagnosed with pneumonia. She was put on antibiotics, and advised to rest and modify her schedule. While at this morning's event, she became overheated and dehydrated. I have just examined her and she is now re-hydrated and recovering nicely."
In adherence with longstanding tradition, both Clinton and her Republican opponent, Donald Trump, agreed to suspend active campaigning on this somber day, according to People magazine. Neither was scheduled to give a speech at the annual September 11 Commemoration Ceremony at Ground Zero in Manhattan, and Clinton ended up staying for only about an hour and a half, according to a statement from campaign spokesman Nick Merrill, which was emailed to reporters:
Secretary Clinton attended the September 11th Commemoration Ceremony for just an hour and thirty minutes this morning to pay her respects and greet some of the families of the fallen. During the ceremony, she felt overheated so departed to go to her daughter's apartment, and is feeling much better.
A video of Clinton leaving the event appears to shows her appearing to nearly collapse as helpers support her.
Clinton was a New York senator at the time that the Twin Towers fell, the Pentagon roiled in flames, and Flight 93 smoldered in that Shanksville, Pennsylvania, field. Speaking with CNN's Chris Cuomo near the 15th anniversary of that horrifying day, Clinton described what she saw during her visit to Ground Zero on Sept. 12, 2001, with the black smoke that still obscured the area and firefighter working to salvage lives, as "as close to a depiction of hell as I've ever personally seen."
The candidate's reported bout of overheating was undoubtedly nowhere near as harrowing for her as the aftermath of the 9/11 attacks was, but it seems to have nevertheless presented a real struggle for her: NBC New York reported that after Clinton departed from the memorial in a van, a member of the New York Police Department had to go back to retrieve a shoe that had fallen off her foot. The statement from her campaign spokesman, however, did not reveal whether Clinton required any medical attention or whether she is dealing with any specific illness.
The incident is sure to fuel the right-wing conspiracy theories about Clinton's supposedly ailing health. Questions about Clinton's health have circulated the alt-right internet for years, mostly stemming from a blood clot she suffered in 2012, according to BBC News. Her doctor, though, has issued a statement to reassure Americans that "she is in excellent physical condition and fit to serve as the president of the United States." That didn't stop Trump, though, from welcoming those unsubstantiated fringe theories into the mainstream, most notably when he said in a mid-August speech that the 68-year-old Clinton "lacks the mental and physical stamina to take on ISIS [Islamic State] and all of the many adversaries we face."
The new (but pretty thoroughly debunked) speculation that she was in poor health prompted Clinton to appear on Jimmy Kimmel Live!, where she suggested that the talk show host take her pulse and opened a jar of pickles, calling Trump's accusations a "whacky strategy." "It just absolutely makes no sense," she said.
On Sunday, Clinton again attempted to quash rumors about her health. According to the New York Daily News, she was walking without assistance when she emerged from her daughter Chelsea Clinton's apartment at around 11:45 a.m. "I'm feeling great!" she said, smiling and waving to reporters, The Herald reported. "It's a beautiful day in New York!"
With less than two months until Election Day, it's hard to tell whether an image of Clinton appearing physically weak could sway voters from supporting her at the polls. It's certainly an outcome Trump would prefer, and so likely he'll try to use the situation to try to convince voters that he, and now she, is the person for the job. In response, she'll have to remind them that even if she had to leave the 9/11 ceremony early, her experience, temperament, and ability to understand nuance and react professionally to domestic and world events makes her much, much more well-equipped to be Commander-in-Chief.