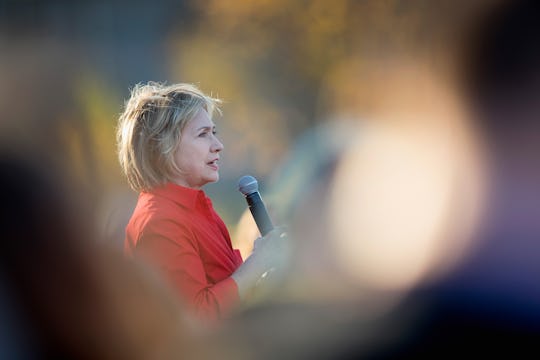 Hillary Clinton Quotes About Paris Terror Attacks From The Democratic Debate Were Sympathetic And Resolved
On Friday, a terrorist attack in Paris stunned the world, leading to the deaths of over 120 people, with hundreds more wounded (many critically). The morning after the attacks, ISIS claimed responsibility, and considering the militant group continues to mobilize, it's only natural that U.S. citizens are also going to start wondering about their own safety. So it's no surprise that the Democratic debate will now focus on national security, and Hillary Clinton's quotes on the Paris attack came immediately at the debate's outset, beginning with her opening statement, setting up a more expansive discussion about terrorism, foreign policy, and national security.
It's not the first time that Clinton spoke out about the attacks. On Friday night, Clinton tweeted: "The reports from Paris are harrowing. Praying for the city and families of the victims." But we're getting an even more detailed account of her thoughts on Saturday, when she stood alongside Bernie Sanders and Martin O'Malley to discuss how the attacks will affect the U.S.'s approach to ISIS in the future. And their answers are important — as Democratic National Committee Chair Rep. Debbie Wasserman Schultz said, "The next commander-in-chief will be on the stage tonight [and] we will hear each of them talk about their views on how best to keep America safe and help our allies to fight terrorists."
So what did Clinton say about the Paris attacks and her commitment to national security, which she said she maintained as Secretary of State by "expanding global anti-terrorism cooperation"? Here are just a few quotes from Saturday's Democratic debate from Clinton.
Our prayers are with the people of France tonight... but that is not enough. We need to have resolve that will bring the world together to root out the kind of radical jihadist ideology that motivates organizations like ISIS, the barbaric, ruthless, violent, jihadist terrorist group. This election is not only about electing a president, it's also about electing our next commander in chief, and I will be laying out, in detail, what I think we need to do with our friends and allies in Europe and elsewhere to do a better job of coordinating efforts against the scourge of terrorism. Our country deserves no less, because all of the other issues we want to deal with depend upon us being secure and strong.
During the debate, discussion of the events in Paris, just one day prior, lead inevitably to further analysis of terrorism in general. Specifically, Clinton was reminded of a comment she made in 2014 where she asserted the importance of "showing respect, even for one's enemies, trying to understand and insofar as psychologically possible, empathize with their perspective and point of view." In the debate, Clinton was asked if she could "explain what this means in the context of this kind of barbarism." Her response both reinforced the underlying principle of her 2014 stance, while allowing for the admittedly more complex nature of trying to empathize in the face of such harsh, relentless brutality:
I think with this kind of barbarism, and nihilism, it's very hard to understand other than the lust for power, the rejection of modernity, the total disregard for human rights, freedom, or any value that we know and respect. Historically, it is important to try to understand your adversary in order to figure out how they're thinking, what they will be doing, how they will react. I plead that it's very difficult when you deal with ISIS ... whose behavior is so barbaric and so vicious that it doesn't seem to have no purpose other than lust for killing and power, and it's very difficult to put ourselves in those shoes.
Image: Scott Olson/Getty