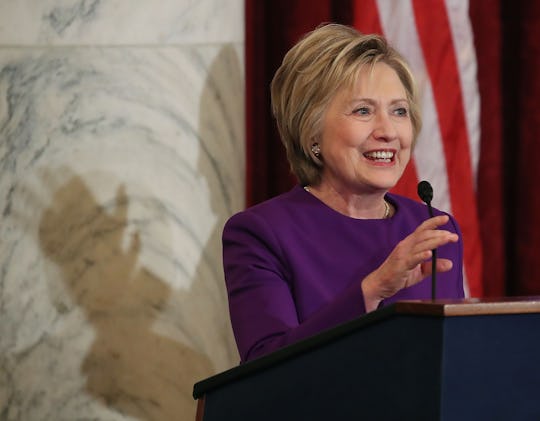 Mark Wilson/Getty Images News/Getty Images
HRC Releases A Video Message About The Resistance
Democrats, particularly those who voted for former Secretary of State Hillary Clinton, might be feeling a little hopeless lately. But that's about to change, because their queen has spoken: Hillary Clinton has released a video message about "the resistance," and her message is to keep fighting. She opens by thanking Democrats for "coming together to represent our party at its best: united, energized, and ready to wage and win the battles ahead." If that intro didn't get you pumped, try opening a second browser tab and listening to "Eye of the Tiger" at the same time.
Clinton expressed gratitude for the support she received during the election, calling the Democratic nomination "the honor of a lifetime," and adding, "While we didn't get the outcome we worked so hard for, I'll always be proud of the campaign we ran. A campaign that was better and stronger, thanks to each of you." She also points out that it's not all bad news: "Ideas we championed are now inspiring leaders and activists across our country." Regardless of their loss, Clinton fans are still fired up: "People are marching, protesting, tweeting, speaking out, and working for an America that's hopeful, inclusive, and big-hearted." She also called out the Women's March on Washington, the airport protests, and packed town hall meetings as examples.
"So now what, Mom?" you're probably asking your screen right now. Clinton urged her supporters to stay engaged, saying "We, as Democrats, must move forward with courage, confidence, and optimism and stay focused on the elections we must win this year and next." It's fine to tweet about impeachment or speculate on who will run for president in 2020, but don't forget that midterm elections can be just as important as presidential elections, if not more so. After the Senate flipped to a Republican majority in 2014, President Obama's hands were tied for the last two years of his term. The opposite could happen in 2018.
Eight Republican Senate seats are up for grabs in 2018, and midterm elections tend to sway towards the opposite party of the president. It's looking more and more likely that the trend will hold true for 2018, considering President Donald Trump's abysmal approval ratings; according to NBC News, he's the lowest-rated newly elected president in history. But don't get cocky; there are also two Independents and an intimidating 23 Democrats up for re-election in 2018. If Republicans can manage to snag eight more seats, Democrats won't even have the filibuster to fall back on anymore. I'll let Queen Hill take it from here: "So keep fighting, and keep the faith, and I'll be right there with you every step of the way."