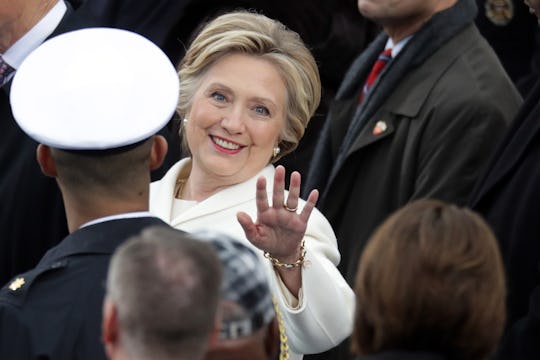 Chip Somodevilla/Getty Images News/Getty Images
Hillary Clinton Responds To The AHCA Being Killed
The withdrawing of the American Health Care Act is considered to be a failure for the Trump Administration — especially after promising voters on the campaign trail that he would repeal and replace Obamacare. But the killing of the AHCA is a success for so many people who the bill would affect. Shortly after the bill was pulled, former Democratic nominee for president Hillary Clinton responded to the AHCA being killed with a powerful series of stories on Twitter, proving that the AHCA was not supported by both Republicans and Democrats for a reason.
The bill was pulled by Trump on Friday due to lack of support from both House Democrats and Republicans, with Republicans "coming up short" in House, according to the Washington Post. The news was pretty positive — millions of people no longer have to worry about losing their coverage and access to services and medications that the Affordable Care Act provided for the first time. The killing of the bill means that the Affordable Care Act, or Obamacare, is here to stay. Clinton, who has supported Obamacare in the past, took to Twitter to discuss what happened on Friday — calling it a "victory." But on top of that, most importantly, Clinton took to Twitter to share the stories of just who would have been affected by Trump's healthcare reform — and how their lives have been changed by the services that Obamacare provides.
"We can not forget: This victory happened because people in every corner of our country committed their time and energy to calling their representatives, showing up at town hall meetings, and making their voices heard," Clinton wrote in her statement shared to Twitter.
Clinton's message is incredibly important to everyone — not only Clinton supporters who were sad to see Trump in the White House, but also for Trump voters who now regret their decisions. When Clinton shares the stories of those who could have been affected by Trump's health care bill, she is sending an incredibly important message — that regardless of political affiliation, Trump's health care bill would have had a major impact on all people. And that those people have the power to make change happen, just by calling their representatives and letting their voices be heard.
Clinton has always been a supporter of healthcare for the people. On the campaign trail, Clinton promised to defend the Affordable Care Act, and further promising reduced costs and quality healthcare to everybody. Of course, voters can not see Clinton's promises fulfilled — but Trump's killing of the AHCA is simply progress made in the right direction.
Clinton's response to the pulling of Trump's bill is empowering — to both voters and the people who would have been affected by Trump's healthcare bill. Clinton's statement ends on an incredibly uplifting note: there has never been a more important time to defend our rights and values.