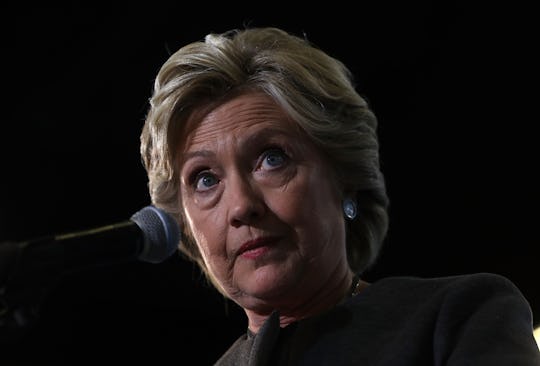 Justin Sullivan/Getty Images News/Getty Images
Hillary Clinton Responds To Trump's Alicia Machado Tweets In Epic, Embarrassing Takedown
Hillary Clinton tweeted what every woman has been thinking. Earlier this morning, Trump tweeted nasty things about former Miss Universe Alicia Machado, including a reference to her alleged "sex tape," according to the New York Times. Then, Clinton responded to Trump's Alicia Machado Twitter rant with the takedown to end all takedowns.
At Monday's debate, Clinton ripped Trump for his past comments towards women, which include calling them "slobs" and "bimbos," and saying pregnancy was an inconvenience for business. She also strategically mentioned Machado, who then appeared in a video released by the Clinton campaign Tuesday.
In the video, Machado details the alleged mistreatment she suffered at the hands of Trump and his company after being crowned Miss Universe. The former Miss Universe said Trump refused to pay her what she was owed for commercials, called reporters on her to film her workouts, and consistently shamed her for her weight after the pageant.
Trump's response to Clinton and Machado's statements was to go on Twitter early Friday morning and post a series of rants calling them "crooked" and "disgusting," respectively.
In the short Twitter rant, Trump called former Miss Universe Alicia Machado "disgusting" and encouraged followers to see her "sex tape," according to Salon. (There is no evidence of a sex tape, as many outlets have reported.) The comments were a new low for him, and now, Clinton is responding with a series of tweets that perfectly capture our emotions. Trump's campaign has not responded to Romper's request for comment.
Clinton went on to tweet that Trump's policies reflect his contempt for women, from saying women should be punished for abortions to calling working wives "dangerous." She also mentioned that Trump has been talking about Machado for the entire week. He has gone on television to repeat his fat-shaming comments to Fox & Friends and has doubled down on his character assassination of Machado during this past week.
Coming from a candidate who, just a few weeks ago, repeatedly said he wanted to "focus on the issues" and move on from the birther controversy, this is particularly ironic. Trump has spent several days talking in depth about Machado in an attempt to undermine her support of Clinton.
In her tweet storm, Clinton noted these things to reinforce her point that a President Trump would not be good for women. It's a message her campaign has communicated since Trump retweeted a tweet calling Megyn Kelly a bimbo and Rosie O'Donnell a disgusting disaster. Trump sure is making it pretty easy for Clinton to get across her point.