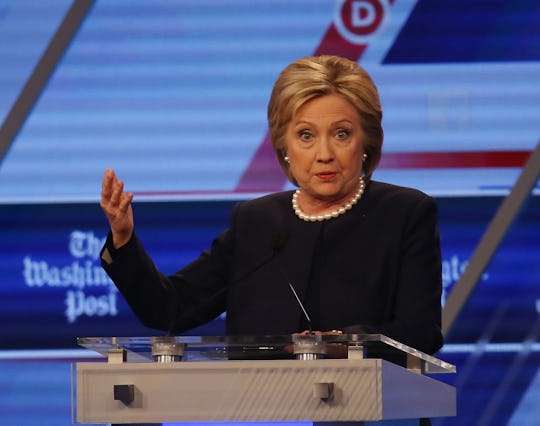 Joe Raedle/Getty Images News/Getty Images
Hillary Clinton Says She's Not A 'Natural Politician' & No One Believes Her
On Wednesday night, Vermont Sen. Bernie Sanders and former Secretary of State Hillary Clinton were faced with Univision reporters Jorge Ramos and Maria Elena Salina and, for once, things got serious. Both candidates took on tough questions and were allotted time to get into the issues. But when it came to immigration, both candidates had some dues to pay. In an earnest attempt to win the crowd, Hillary Clinton said that she's not a "natural politician" but everyone watching felt otherwise. When addressing the crowd, she made a comment and, in doing so, stepped back from being a leader in so many ways.
This is not easy for me. It's not easy to do what I think is right, to help people to even the odds, to hear a story like the woman's story we just heard, and to know that I can make a difference and I want to in every way possible. I am not a natural politician in case you haven't noticed, like my husband or President Obama, so I have a view that I just have to do the best I can, get the results I can, make a difference in people lives, and hope that people see that I'm fighting for them and that I can improve conditions economically and in other ways that will benefit
them and their families.
If you're a Hillary supporter this should rub you the wrong way. If you aren't, this kind of statement rubs you exactly where you like it. It's gross all around. No matter what you think of her politics, one of Clinton's best moves is that she knows politics. Darn right she's been in D.C. for years. She served as Secretary of State. She knows what's up. You don't have to like or agree with her. But being establishment is as much a detriment to her campaign to some as it is a reason to vote for her for others.
When she shrugs her shoulders during a debate and says "well, geez, I'm not a politician like my husband or former boss," everyone (especially women) should groan. Trump supporters included. "It's not easy for me," she says, playing right into the Sanders campaign. That kind of offhand comment makes her a liar, liar, pants on fire.
It is easy for Hillary. She is a career politician. That's OK. Many men have been insiders for years and succeeded on a national level. She doesn't need to play dumb just because some demographics don't like that. In fact, the more Clinton owns her insider status, the more trustworthy she becomes.