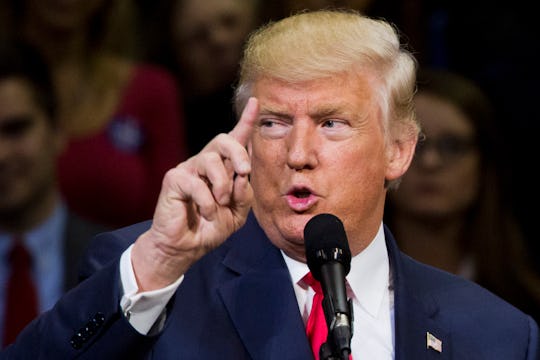 DOMINICK REUTER/AFP/Getty Images
Hillary Clinton Says Trump Should Compare His 30 Years To Hers & It's A Wise Move
The debates of the 2016 election season will certainly be remembered for many things — some less savory than others — and prominent among them will be Republican presidential nominee Donald Trump's frequent references to former Secretary of State Hillary Clinton's 30 years of public service, specifically framing her experience as a bad thing. Before a crowd of supporters in Columbus, Ohio this week, Clinton said if Trump wants to compare his 30 years with hers, he can "bring it on."
As reported by The Hill, Clinton told her audience that while she was busy tracking the raid on Osama bin Laden in early May, 2011, Trump was hosting an episode of NBC's reality show The Apprentice. "So if he wants to talk about what we've been doing the last 30 years, bring it on," Clinton concluded.
Trump first brought up Clinton's 30 years during the first presidential debate in late September. The candidates were bickering over the North American Free Trade Agreement (NAFTA), which Trump hyperbolically characterized as "the worst trade deal maybe ever signed anywhere." He then said, "She's been doing this for 30 years. And why hasn't she made the agreements better? The NAFTA agreement is defective." Later in the same debate, Trump implied that Clinton somehow had legislative authority over the Midwest, despite having been a New York senator for eight years. While discussing the economies of Michigan and Ohio, Trump said, "You've been doing this for 30 years. Why are you just thinking about these solutions right now?"
Trump supporters immediately hailed these attacks on Clinton's 30 years of service as one of Trump's stronger points in an otherwise disastrous first debate. And so for the second debate, Clinton was prepared. She was quick to frame her 30 years of service as the point of pride that it should be, before neoconservatives convinced a huge portion of the electorate that political experience is a negative trait.
"Look, he has now said repeatedly, 30 years this and 30 years that," Clinton said toward the beginning of the debate. "So let me talk about my 30 years in public service. I'm very glad to do so." Clinton then listed some of the higher points of her career, including her role in the creation of the Children's Health Insurance Program, her role in reforming federal rules for adoptions and foster care, and her role in supporting 9/11 first responders. She specified that "400 pieces of legislation have my name on it as a sponsor or cosponsor when I was a senator for eight years."
Comparing Trump's 30 years to Clinton's 30 years is a rather grim undertaking, actually, because it forces one to track all of Trump's shady dealings, including 3,500 lawsuits, a corrupt private university, and allegedly illegal business deals with Cuba. For anyone who can stomach it, though, PBS' Frontline recently released The Choice, a documentary that juxtaposes each period of Clinton's life with the corresponding time period from Trump's life. A The New York Times review of the documentary marvels that despite the documentary's conscious decision to not editorialize at all, laying out the bare facts of the candidates' lives amounts to an implicit condemnation of Donald Trump:
...the two hours are a striking example of how to avoid the journalistic pitfall sometimes labeled "false equivalency." What if you have to cover two candidates and they simply don't compare equally? Do you grade them on a curve? Stretch to find counterexamples for the appearance of balance? What if laying out the simple evidence you find might make you seem to be taking a side?
So if Trump wants a comparison of 30 years versus 30 years, Clinton probably said it best: Bring it on.