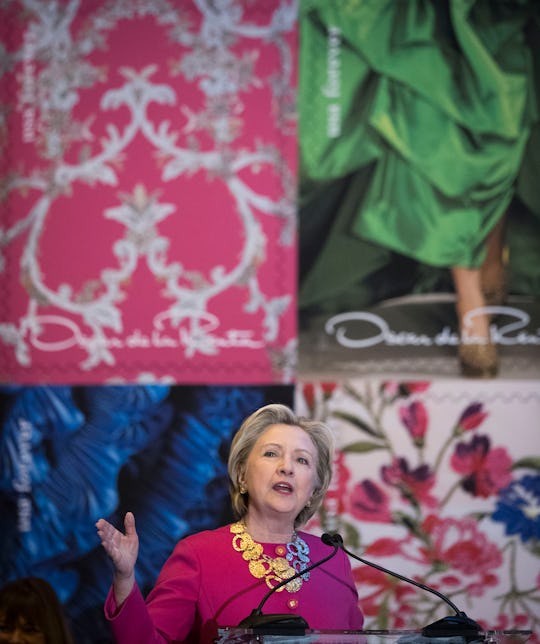 Drew Angerer/Getty Images News/Getty Images
Hillary Clinton Honors Immigrants At NYFW
On stage with the likes of Anna Wintour, Michael Bloomberg, and Anderson Cooper, former presidential candidate and Secretary of State Hillary Clinton spoke at a New York Fashion Week event honoring fashion designer Oscar de La Renta on Thursday. In her speech, Clinton couldn't help but comment on the current concerns that are consuming our country. Clinton also talked about immigrants in a proud, hopeful way, managing to marry fashion with politics in one important message.
De la Renta passed away in 2014, and this event at Grand Central Terminal's Vanderbilt Hall introduced a set of commemorative stamps courtesy of the U.S. Postal Service which were creates in his honor. Clinton, who was the final speaker of the day, began her address by first speaking to de la Renta's character as well as their personal history. She then stressed, "Oscar de la Renta was an immigrant … And aren't we proud and grateful that he was?" The crowd responded in applause and agreement.
This obvious disapproval at Trump's recent anti-immigrant policies and executive orders wasn't the only swing Clinton took at the current president. In lauding the Postal Service's choice of de la Renta further, she noted: "What a fitting person to be chosen by our Postal Service, mentioned, by the way in the Constitution, something we should all read and re-read in today's times." Bringing up the Constitution was definitely a power move, calculated enough to get her opinion across without the need for direct call-outs or any explicit mentioning of Trump at all.
In Clinton's eyes, Dominican-born de la Renta set a true example of the American dream, one that Trump's anti-immigrant policies threaten to cease altogether. Her message concluded:
[The Postal Service's] choice of this immigrant who did so much for our country, his country, truly is what it means when we say, "USA Forever." Who we are, what we stand for. And let there be many, many more immigrants with the love of America that Oscar de la Renta exemplified every single day.
The series of 11 de la Renta inspired USPS stamps feature a mix of 10 bright patterns and swaths of his work along with one, black and white portrait of the late designer. Though they may seem like a small symbol, the stamps serve as an open invitation of welcome to non-American born creatives with similar dreams and ambitions — a cause that Clinton continues to speak out in favor of.
You can watch a video of Clinton's remarks below: