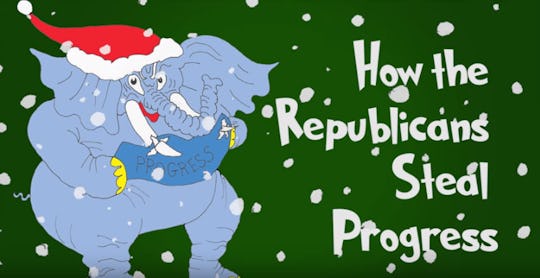 The Briefing
Hillary Clinton & Ted Cruz Release Holiday-Themed Ads, But Who Did It Better?
It seems the presidential candidates are getting into the holiday spirit. Hillary Clinton and Ted Cruz both released holiday-themed ads this week, and as you might imagine, both competitors put their political rivals firmly on the "naughty" list. Still, even though both videos played on beloved Christmas stories, the results were hardly similar. Which presidential contender did it best? If the question is which candidate delivered the strongest message, the answer is pretty clear.
First, Senator Ted Cruz aired his Christmas-themed infomercial parody on December 19 during Saturday Night Live. In his video, the Texas senator sits on a couch with his wife and two daughters, as they run through a few stories presented as Christmas classics in the Cruz household: "Rudolph The Underemployed Reindeer," "Frosty The Speaker of the House," and "The Grinch Who Lost Her Emails." The little girls giggle as the GOP candidate reads, "Twas the night before the shutdown, and all through the House not a bill was stirring, not even to fund a mouse."
Clearly meant as political satire, the video seems to blast everyone from Clinton to Congress to members of Cruz's own party. The message was meant for a select audience; a Cruz spokesperson told the Independent Journal the Cruz clip only aired in key Iowa markets.
Every time I watch the Ted Cruz video (and at this point, we're talking more than a dozen times), I'm awestruck. After his machine gun bacon video, Simpsons audition, and "Maniac" message to Donald Trump, it's clear that Ted Cruz likes to poke fun at himself. But watching his daughter get into the political fray — there's a moment where his oldest recites a line clearly meant as a jab against Clinton — just looks creepy and awkward.
Well, a few days later, the Clinton campaign answered Cruz's video with a Christmas story of its own, titled "How The Republicans Steal Progress." Posted on HillaryClinton.com, the video casts GOP candidates like Donald Trump, Marco Rubio, Ted Cruz, and Carly Fiorina as the infamous green baddie from classic Dr. Seuss "How The Grinch Stole Christmas":
Narrator: American families like progress a lot. But the Grinches in GOPville, it seems they do not. Together they shout with great grinchy zeal, that on healthcare their plan is
Trump: Repeal
Fiorina: Repeal
Cruz: Repeal
Rubio: Repeal
The clip goes on to take down the Republican positions on immigration, Wall Street Reform, and Planned Parenthood, each time using the GOP candidates' own quotes as punch lines. The video ends with an positive message on what should come next for American voters:
We'll stop them from reaching their extreme grinchy goals, when we head out together to vote at the polls. We'll send them back to GOPville, where they all belong. We will protect our progress and keep American families strong.
That might be why it's so easy to decide which ad is more effective. While the Cruz piece might have been good for a chuckle from conservative voters (who happened to live in Iowa and catch SNL this weekend), Clinton's video offers a focused take-down of the Republican platform. It's cute, but not campy, and drives home a forward-looking message. Plus, no kids were involved in the video's production. And doesn't that pretty much sum up what Christmas is all about?
Image: The Briefing/YouTube