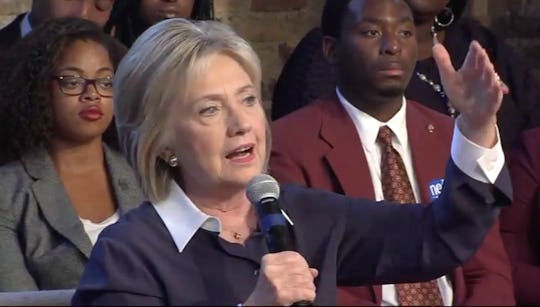 Roland Martin/YouTube
Hillary Clinton Thinks Marijuana Should Be Reclassified As Less Dangerous Drug, But Wants More Research Done First
At a Town Hall meeting in Orangeburg, South Carolina on Saturday, presidential hopeful Hillary Clinton expressed support for reclassifying marijuana as a less dangerous drug under the current Controlled Substances Act. Responding to a student question at the campaign event hosted by the South Carolina Legislative Black Caucus at the Clafin University campus, Clinton's proposal to move marijuana from being a Schedule I drug to a Schedule II substance follows similar comments made by fellow candidate Sen. Bernie Sanders, who spoke about the same issue last week.
During the Town Hall, Clinton noted the inherent issues by keeping marijuana as a Schedule I substance:
The problem with medical marijuana is that there's a lot of anecdotal evidence about how well it works for certain conditions, but we haven't done any research. Why? Because it's what's considered a Schedule I drug and you can't even do research on it. So I would like to move it from what's called Schedule I to Schedule II so that researchers at universities and at the National Institutes of Health can start researching what's the best way to use it.
This newly-voiced proposal from Clinton comes at a stark contrast from the position of Sanders, her main Democratic primary rival. On Thursday, Sanders introduced the Ending Federal Marijuana Prohibition Act, a bill seeking to remove marijuana entirely from the Controlled Substances Act:
Like much of Sanders' campaign, his deeply progressive stance on the big issues has pushed Clinton to be more progressive in her own issue positions in order to keep up with Sanders' recent momentum, especially among young voters. Still, Clinton's comments on Saturday show that she's not willing to go so far as to legalize marijuana on a federal level, but to take the legislative steps necessary to learn more about marijuana's efficacy as a medical alternative.
Check out Clinton's full response on her proposal on marijuana in the clip from Saturday's town hall meeting below:
Images: Roland Martin/YouTube; Bernie Sanders/Twitter