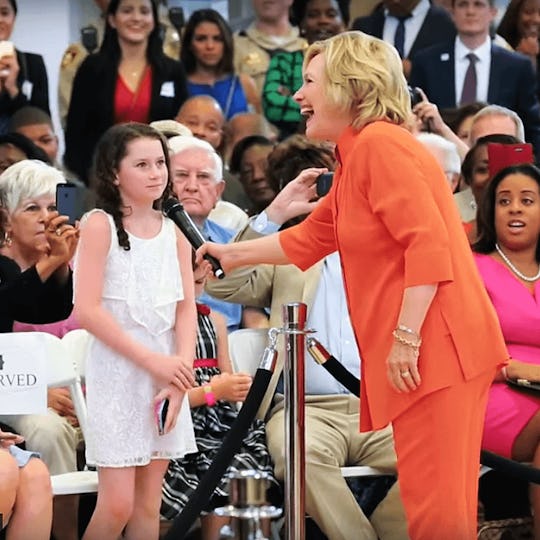 Hillary Clinton/YouTube
Hillary Clinton Tweets Best Letter Ever From Little Girl, Melts Our Little Feminist Hearts
On Saturday, Hillary Clinton posted a little girl's letter to Twitter and it is just about the most awesome thing ever. The 12-year-old letter-writer and Clinton supporter named Olivia talked about her two dads, the need for more public schools for students with learning disabilities, and how she plans to help Clinton campaign after school. From the mouths of babes, right? Here's a transcript of Olivia's adorable letter (the most amazing bits emphasis ours):
Dear Hillary Clinton, My name is Olivia [redacted] and I am 12 years old. I have two dads named [redacted] and [redacted]. I also have a twin brother named Spencer [redacted]. I go to a school called Mary McDowell Friends School. The school is for kids with learning disabilities, I have dyslexia and ADHD which stands for Attention Deficit-Hyperactivity Disorder. The school is fairly expensive and I wish that there were more public schools that can help kids with dyslexia like me. My school is in Brooklyn so I would be completely willing to help you out after school. I bet I would be the youngest member of your campaign. I am a huge fan of yours, and I really hope you become President. I am a little feminist growing up to help all women with equal rights. I hope you can be the first woman President of the whole United States! By the way, I'm really glad, that there is now gay marriage legal all around the whole 50 states of America! Your hopeful friend, Olivia [redacted]
With news Wednesday that fellow Presidential hopeful Bernie Sanders has more female donors than Clinton, perhaps this letter on the Clinton Twitter account is a calculated appeal to win over the hearts of more women donors. Even so, I'm pretty sure my ovaries just exploded from the cuteness all the same.
Images: Hillary Clinton/YouTube; Hillary Clinton/Twitter.