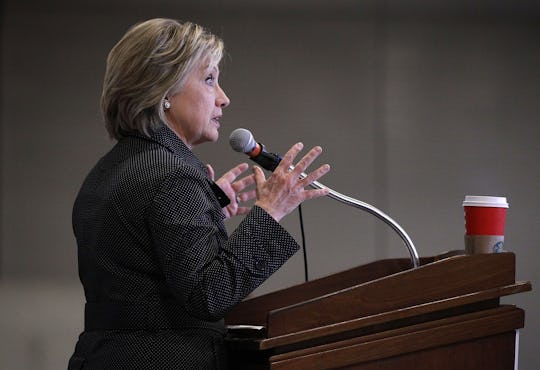 Hillary Clinton Vows Never To Use The Term "Illegal Immigrant" Again, And Here's Why No One Else Should Either
During a Facebook Q&A on Tuesday, Democratic frontrunner Hillary Clinton vowed to never use the term "illegal immigrant" again, a position that's a far cry from her Republican opponents. Telemundo hosted the q&a session, giving potential voters the opportunity to ask the former Secretary of State questions. Jose Antonio Vargas, a filmmaker and journalist, asked Clinton about her prior use of the term, saying, "the terminology is offensive and all Presidential candidates should stop using it." Clinton agreed, responding:
That was a poor choice of words. As I've said throughout this campaign, the people at the heart of the issues are children, parents, families, DREAMers. They have names and hopes and dreams that deserve to be respected.
DREAMers is a name derived from the acronym for the legislation that outlines the process immigrants go through when attempting to obtain citizenship in the United States, usually after they were brought into the country illegally as children.
Due to the popular, offensive and, quite frankly, dangerous prevalent rhetoric surrounding refugees and Muslim-Americans, Clinton's stance is especially powerful. While many (Read: Donald Trump) are quick to paint large populations of American with a broad — and often decidedly racist — brush, Clinton appears steadfast and passionate in her mission to give refugees, immigrants and Muslim-Americans names and faces, instead of labels and judgement.
So even if it's easy to scoff at a comment made on Facebook, Clinton's vow marks an important and potentially life-saving moment in her Presidential campaign. Here's why: