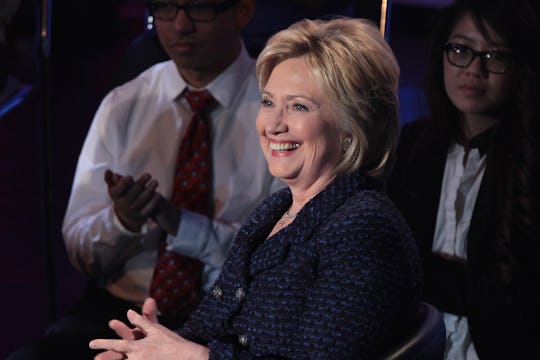 Gage Skidmore/Flickr
Hillary Clinton Will Appear In 'Broad City' & It's Not Her Only Quirky TV Appearance
Now that the presidential race is really heating up, candidates are doing all they can to close the gap with their competitors, and that includes not just polishing their views on domestic and foreign policy, but also their public images and personas. In one candidate's case, this means making a cameo on a popular cable TV show. Last month, we learned via Twitter that Hillary Clinton will appear on Broad City next season, as evidenced by a picture she posted of herself with show creators Ilana Glazer and Abbi Jacobsen plus executive producer Amy Poehler.
Strange feelings about politicians on your favorite show aside, it looks like both Clinton and the show creators had a blast filming together. According to EW, who spoke to Glazer and Jacobsen about Broad City's third season, which premieres Feb. 17, it was an absolute pleasure working with Clinton, who Glazer described as "wild, warm and personable." Although the show creators won't reveal how the Hillz factors into the episode, it's fun to speculate how their characters will handle the encounter with the presidential candidate. A ton of crazy things have already happened to both Ilana and Abbi on the show (booze cruises, anyone?), but meeting THE Hillary Rodham Clinton has to take the cake in comparison to all their other shenanigans.
If you're a fan of the show and are frankly surprised by the cameo, don't be because it's not her only quirky TV appearance (and hopefully it's not her last).
Jimmy Kimmel Live
Last November, Clinton appeared on a Jimmy Kimmel Live skit to teach some kids about the possibility of having the first female President of the United States next election. In this hilarious sketch, the four kids have some funny suggestions for what they'd like her to do if she becomes president.
Saturday Night Live
Unlike her other TV appearances, in this Saturday Night Live sketch from October, Clinton plays someone other than herself. Here Clinton plays a bartender (who may or may not be real) named Val to Kate McKinnon's Hillary Clinton. Together, they have a friendly chat laced with jokes about Clinton's delayed support of gay marriage and delayed opposition to the building of Keystone Pipeline. There was also an impression of Donald Trump from Clinton herself and a Miley Cyrus cameo. What was noticeably missing from this skit, as NPR reports, is a mention of Clinton's email scandal, which was going on around the same time.
The Tonight Show With Jimmy Fallon
Back in September on The Tonight Show with Jimmy Fallon, Clinton did a skit where she enacts a phone call with "Donald Trump" played by Jimmy Fallon. In it, Fallon captures Trump's trademark arrogance as he interviews Clinton on her stand on political topics such as women's issues and immigration. While she comes off as the more likable candidate in the skit, she drew big laughs by taking a swig of wine during the awkward interview.
The Colbert Report
In 2014, while she was promoting her book Hard Choices, Clinton engaged in an epic name-dropping battle with Stephen Colbert. Some of the names dropped were George Clooney, Oprah, Paul McCartney, and of course, Bill Clinton. No surprises here: Hillary wins.
Throughout her campaign, Clinton seems to have spent a lot of time trying to reinvigorate her persona or image, which has been criticized by some as cold or calculating, with these types of appearances. Time will tell if this strategy to appear more fun and friendly will actually translate to higher poll results.
Images: Gage Skidmore/Flickr