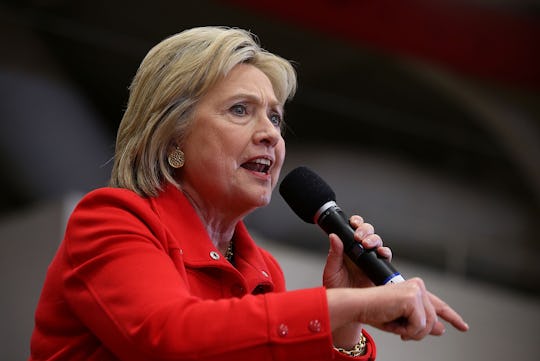 Justin Sullivan/Getty Images News
Hillary Clinton Won Iowa Caucus By A Coin Toss, Meaning She Has A Lot To Do Before New Hampshire
Former Secretary of State Hillary Clinton won the Iowa caucuses with about as narrow of a margin as possible. Actually, the leader of the Democratic Party said the race was "historically close," so the party couldn't actually declare a real winner, according to CBS News. Being able to mark a "W" in the box for the first vote of the primary season is certainly a reason for Clinton's team to celebrate. Still, the fight for the Democratic nomination for president is far from over — as the extremely tight race in Iowa really demonstrated.
On the morning of the Iowa caucuses, CNN reported Sanders had a narrow lead over Clinton. That caused him to draw a comparison to what happened in Iowa eight years ago when the former frontrunner lost to then-Illinois Sen. Barack Obama. Clinton managed to avoid a totally disappointing episode of history repeating itself — although the battle between Clinton and Sanders was about as neck-and-neck as possible. In fact, Clinton didn't actually "win" in any traditional sense of the term. In at least six Iowa precincts, Sanders and Clinton were tied so closely that the tie had to be broken with a coin toss, according to MarketWatch.
Clinton won is every single one of the coin tosses, which isn't really a "win," it's just plain old luck.
Speaking to her supporters on Monday night, Clinton still said she breathed a sigh of relief, according to U.S. News & World Report:
I stand here tonight breathing a big sigh of relief, Iowa. I want you to know, I will keep doing what I've been doing my entire life... Join me. Let's go win the nomination.
During the speech — which actually came before the night was officially called — Clinton also put attention on her platform.
Even though Clinton won the Iowa caucuses and earned a solid number of delegates in the process, the race for the Democratic nomination is still virtually tied: By Iowa's policies, Sanders also earned some delegates for his strong showing. In the end, Clinton won 699.57 delegates and Sanders won 695.49, according to CBS. Sanders also has a wider lead with primary voters in New Hampshire, where attention will turn next week. Clinton should also know from experience that a win (or loss) in Iowa doesn't absolutely predict the party's nomination: Back in 1992, her husband, Bill Clinton, lost both Iowa and New Hampshire before earning the nomination and presidency.
After some very short-lived celebrating tonight, Clinton's team is surely turning attention to New Hampshire and beyond. If anything, Iowa likely showed them that Sanders truly is a legitimate competitor — which means the primary season really is just beginning.