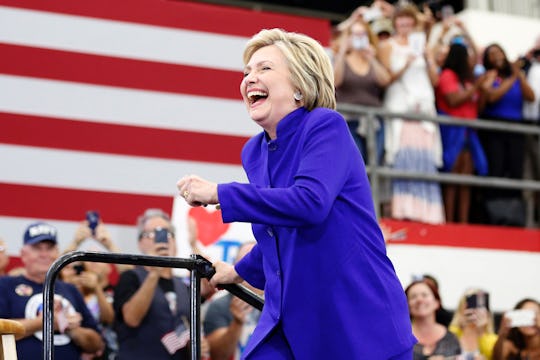 JONATHAN ALCORN/AFP/Getty Images
Hillary Clinton's Adorable Instagram About The Nomination Shows Why It's Such A Big Moment
Just one day following news that she'd scored enough delegates to take her to the general election in November, Hillary Clinton's adorable nomination Instagram proved, once again, why the moment was such a momentous one. In a post to her personal account, the former Secretary of State noted that her win wasn't just a victory for herself, but one that all young women across the country could look up to. Certainly, as the first female nominee on a major party ticket, it wouldn't be an understatement.
"To every little girl who dreams big: Yes, you can be anything you want—even president," Clinton wrote in the caption, beneath a photo of herself dancing with a little girl on one of her campaign stops. "Tonight is for you."
Although news of Clinton's presumptive nomination was initially reported by the Associated Press on Monday, Clinton herself did not officially accept the nod, noting only on Tuesday that the moment, no matter what the eventual outcome was, was still historic. "Tonight, we can say with pride that, in America, there is no barrier too great and no ceiling too high to break," Clinton tweeted over a graphic that read, "June 7, 2016: History is made."
On Monday night, following the AP's delegate call, which stated that the former Secretary had won enough delegates and pledged superdelegates to take the nomination, Clinton also spoke to a crowd at a rally in Long Beach, California — which hosted its statewide primary Tuesday — reminding supporters that there was still a long ways to go.
"According to the news, we are on the brink of a historic, unprecedented moment, but we still have work to do, don't we?" Clinton said to the crowd of exuberant supporters. "We have six elections tomorrow, and we're going to fight hard for every single vote — especially here in California."
While Clinton enjoyed a largely positive outlook, her work was still cut out for her: Clinton's rival, Vermont Sen. Bernie Sanders, had pledged previously to continue on in his campaign through the Democratic convention in July and her numbers going into the highly-anticipated California primary were only slightly higher than Sanders', with a margin of just 2 percentage points separating the two.
By the end of the evening, however, Clinton's path to the nomination was cleared with her respectable showings in New Jersey, New Mexico, and South Dakota. "Thanks to you, we've reached a milestone," Clinton told supporters at a rally in Brooklyn, New York. "... It's the first time in U.S. history that a woman will be a major party's nominee. Tonight's victory is not about one person: It belongs to generations of men and women who sacrificed and made this moment possible."