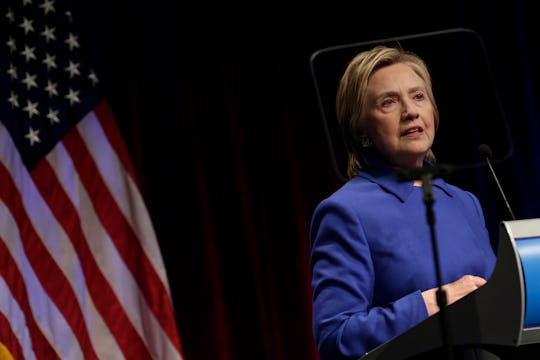 YURI GRIPAS/AFP/Getty Images
Hillary Clinton's Campaign Will Participate In Election Recounts & That's Great News
On Wednesday, Green Party presidential candidate Jill Stein met her $5 million goal to file requests for recounts in three states — Michigan, Wisconsin, and Pennsylvania. While the recounts might not help Stein, they could definitely help Hillary Clinton, who won the popular vote in the election by far. As it turns out, Hillary Clinton's campaign will participate in election recounts, according to Marc Elias, the Clinton campaign's general counsel — which means that Clinton, just like her supporters, is not giving up without a fight.
Since the election, according to Elias' essay, the Clinton campaign has been searching for signs of fraud and interference in the vote tally. They have not been able to find any results to suggest that this has happened — in spite of multiple people suggesting that hacking had occurred during the election. Yet, in spite of this investigation and not being able to conclude that the results were hacked, many Clinton supporters still believe that something is amiss. This could not be more clear by how fast Stein raised money throughout the Thanksgiving holiday, with promises to put the money towards filing a recount in the three states. Within 24 hours, Stein raised over $3 million towards recounting efforts and filed for a recount in Wisconsin on Friday. Now, according to Elias, the Clinton campaign will participate in the election recounts.
Elias explains:
Because we had not uncovered any actionable evidence of hacking or outside attempts to alter the voting technology, we had not planned to exercise the option ourselves, but now that a recount has been initiated in Wisconsin, we intend to participate in order to ensure the process proceeds in a manner that is fair to all sides.
In other words, they wouldn't have filed for a recount themselves, but since other people are doing it, why shouldn't they comply? The Clinton campaign does not have much to lose by participating in the recount — and the results can go either way. The worst thing that could happen is that it confirms what people already know — that Donald Trump will be the President of the United States. However, the margins that separate Clinton and Trump in those three states, according to The Hill, are larger than any that has been reversed by a recount. And according to The Washington Post, if the election had been hacked (especially in Pennsylvania) "a recount couldn't prove it."
While Clinton emerging as the victor in the recounts in these three major swing states is a stretch, people remain optimistic. Stein will have until early next week to file a recount in Pennsylvania and Michigan — and the fees to do so can be quite hefty. The Clinton campaign's willingness to participate in the recount means that supporters' optimism is validated — they will just have to wait and see what comes out of the recount.