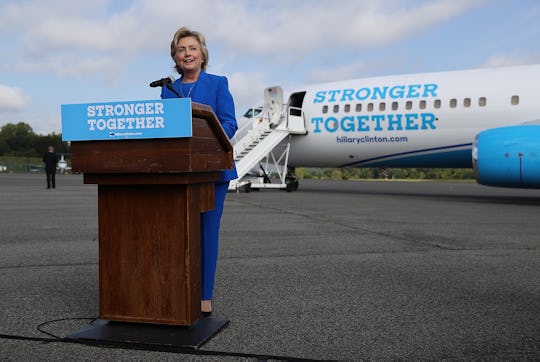 Justin Sullivan/Getty Images News/Getty Images
Hillary Clinton's Humans Of New York Story Helps Her Own Her "Cold" Public Persona
Humans of New York, which started as a photography project for Brandon Stanton, has emerged as a raw and tender look not just at the inhabitants of New York, but of our country. The portraits along with brief stories about the subject are wildly popular, drawing in tens of millions of viewers and fans worldwide. Now, Hillary Clinton has her own Humans of New York story, and it's essentially the origin story of her "cold" public persona. It's also a reminder of how tough she's had to be to rise to become the first woman presidential candidate from a major political party.
"I was taking a law school admissions test in a big classroom at Harvard. My friend and I were some of the only women in the room," the caption reads, running along side Clinton, who looks like she's in the middle of telling the story dressed in her signature pants suit.
She tells the story of how upset the men in the room got that she and her friend were there, and how she reacted to them:
One of them even said: 'If you take my spot, I'll get drafted, and I'll go to Vietnam, and I'll die.' And they weren't kidding around. It was intense. It got very personal. But I couldn't respond. I couldn't afford to get distracted because I didn't want to mess up the test.
The caption tells you almost everything you need to know about the nose-to-the-grindstone policy wonk Clinton would eventually become. But it's really a reflection of the moment she realized she had two choices: react and become everything critics of ambitious women use to disqualify them (for example, by being emotional), or, she could just ignore it and focus on the task at hand. And she's been making that same consistent choice throughout her life. Critics don't like your hair? Go to work. Your husband's caught in a humiliating international scandalous affair? Go to work. People chant "lock her up!" all over the country? Work, work, work, work, work. Like Rihanna, only with political power. Clinton said:
I know that I can be perceived as aloof or cold or unemotional. But I had to learn as a young woman to control my emotions. And that's a hard path to walk. Because you need to protect yourself, you need to keep steady, but at the same time you don't want to seem 'walled off.' And sometimes I think I come across more in the 'walled off' arena.
It's no surprise Clinton is trying through outlets and opportunities like Humans of New York to let voters get to know her better. A Washington Post-ABC poll released at the end of August put Clinton's unfavorability ratings at an all-time high over her decades in politics, according to CBS News. Fifty-six percent of Americans see her unfavorably. A major contributing factor to her sliding numbers are continuing questions about her emails, and State Department ties to the Clinton Foundation, CBS reported.
The question is whether revealing more of herself will have any impact on how voters will feel on election day.