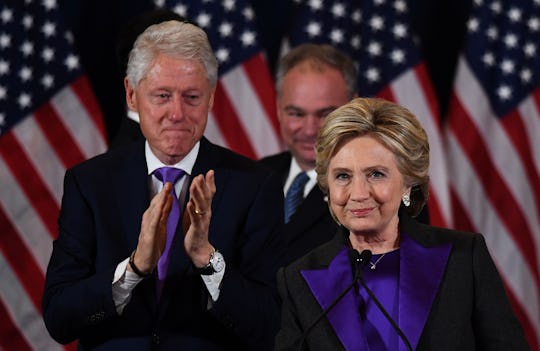 JEWEL SAMAD/AFP/Getty Images
Hillary Clinton's Message To Women During Her Concession Speech Will Inspire Generations
On Wednesday, the nation waited to see what Hillary Clinton was going to say when addressing those that previously elected Donald Trump as the president-elect. It was surprising that she didn't speak on Tuesday night, but the election was close, and the night was long. So, Wednesday was the day for us to grab our tissue boxes and stand with her one final time. Clinton's remarks during the conference were exactly what needed to be said. She was inspiring (as usual) and she was well-thought out. But it was Hillary Clinton's message to women during her concession speech that really stuck out. Those comments will inspire generations of women to come.
I have, as Tim said, spent my entire adult life fighting for what I believe in. I have had successes, and I've had set backs, sometimes very painful ones. Many of you are at the beginning of your professional, public, and political careers. You will have successes and you will have set backs, too. This one hurts. But please never stop believing that fighting for what is right is worth it. We need you to keep at that these fights now and for the rest of your lives.
And to all of the women, and especially the young women who put their faith in this campaign and me, I want you to know that nothing has made me more proud to be your champion. I know that we have still not shattered that highest and hardest glass ceiling, but someday someone will, and hopefully sooner than we may think right now.
Hillary Clinton began her speech with an apology. "I'm sorry," she said, something women have been conditioned to say when they don't necessarily have anything to be sorry for. As a Hillary supporter, I personally feel sorry. I feel I let Clinton down. I could have done more. I could have fought more for what I feel is right. She didn't let me down. In a way, it feels like we let her down.
But, here we are — preparing for a Trump presidency, something some of us (including Clinton and team) were not prepared for. Regardless of where you fall, there is no doubt that the words Clinton shared will inspire people for generations. She is encouraging everyone (young women especially) to follow in her footsteps. To find what inspires them. What pushes them. What motivates them, and to follow that until the very end.