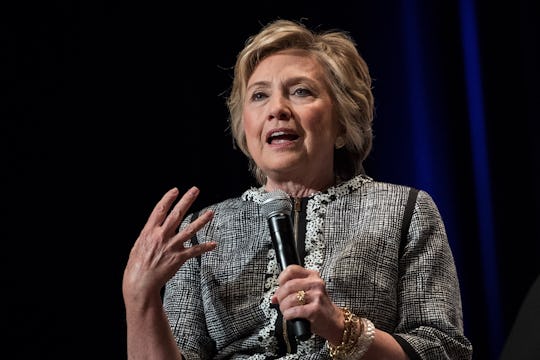 Drew Angerer/Getty Images News/Getty Images
Hillary Clinton's New Memoir Promises To Reveal What Really Happened In The Election
In a statement Thursday, Hillary Clinton's publisher revealed more details about her highly-anticipated memoir. The book won't be released until September, but this new information will heighten the anticipation of Clinton fans and anyone wanting an inside look at what went down in America in 2016. As Now This noted, the title of Hillary Clinton's new memoir promises to reveal what happened in the election, literally. The title is What Happened.
Following President Donald Trump's win in November, the public hasn't heard much from Clinton on the election results, minus a few statements here or there. Clinton's restraint regarding her loss makes total sense when you consider the 2016 campaign was incredibly vicious, unpredictable, and downright strange. Now that Clinton has had some time to reflect on the events of the election, the floodgates have opened.
In the intro of What Happened, Clinton writes, according to Simon & Schuster's website:
In the past, for reasons I try to explain, I've often felt I had to be careful in public, like I was up on a wire without a net. Now I'm letting my guard down.
If you know anything about Clinton, then you know she is unflappable. During the 2016 campaign, Clinton remained calm and collected while Trump regularly imploded on Twitter and at his endless stream of rallies. At the time, some analysts criticized Clinton's steely demeanor, which really wasn't fair when you consider male candidates rarely face the same scrutiny. Not to mention that likely Clinton would have endured even more criticism if she had in fact "let her guard down," especially since there are plenty of people out there that believe women are too "emotional" to be president. So it will fascinating to read what Clinton's mindset was during the campaign behind her ever-calm facade.
As if that weren't enough to entice readers, it looks like she'll also tackle the influence Russia is believed to have had on the election. A portion of the book's summary reads, according to The Guardian:
She lays out how the 2016 election was marked by an unprecedented assault on our democracy by a foreign adversary. By analyzing the evidence and connecting the dots, Hillary shows just how dangerous the forces are that shaped the outcome, and why Americans need to understand them to protect our values and our democracy in the future.
Clinton's insight into this controversy couldn't come at a better time. Despite the Trump administration's attempts to distance themselves from Russia, it continues to be embroiled in scandals. Whether or not Clinton will share additional or previously unheard information about Russia's meddling remains to be seen (although since that type of information can be classified, it's unlikely).
It goes without saying that the 2016 election was a doozy, but Clinton's memoir might offer some sense of closure and relief during this time of unprecedented uncertainty. Americans have certainly never been more desperate to understand what happened.
Clinton's tell-all will be released on Sept. 12, 2017.