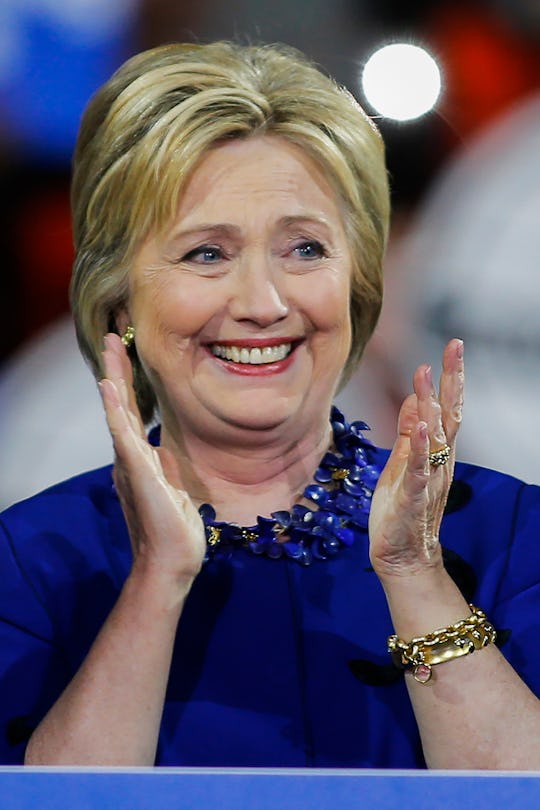 Eduardo Munoz Alvarez/Getty Images News/Getty Images
Hillary Clinton's Reaction To Chelsea's Birth Announcement Is Short & Sweet
On Saturday morning, Chelsea Clinton announced the birth of her son, Aidan, on Twitter. While the rest of political Twitter was tweeting their congrats (and their not-so-congrats), presumptive Democratic nominee Hillary Clinton's reaction to Chelsea's birth announcement was short and sweet. In fact, she merely retweeted her daughter's own words about an hour or so after the initial tweet.
Which is really the best reaction — who has time to order social media teams to craft a welcome message when you're busy fawning over a new baby? No one, especially not a presidential candidate. She and Bill Clinton did release a joing statement, saying that they were both "overjoyed" about Aidan's arrival. They added, "we are all over the moon" about welcoming Charlotte's baby brother to the world. They added that they are "grateful for their many blessings," and that both their daughter and grandson were doing just fine.
The former Secretary of State doesn't ever hold her excitement back about Chelsea's baby news. When Chelsea announced her pregnancy in December, the candidate tweeted that "Your dad and I could not be happier for you," and that she was "beyond excited." Former President Bill Clinton also tweeted that Christmas had come early with the late December pregnancy announcement. Even the presumptive Democratic nominee's official Instagram bio says that she's a "doting grandmother," among other things. Her Twitter bio is similar:
Wife, mom, grandma, women+kids advocate, FLOTUS, Senator, SecState, hair icon, pantsuit aficionado, 2016 presidential candidate.
Family first, always.
Clinton has rightly made her grandmother status a focal point for her campaign, both as a way to attract older, female voters and because many of her platforms are family centric — like covering child care costs or keeping families together with immigration laws. She also sprinkles references to her grandma status in during speeches. In 2014, she said, "I think my granddaughter has just as much God-given potential as a boy who was born in that hospital on the same day." Now that there's a grandson, too, it looks like the family is fully balanced.
Her grandchildren seem to bring out a much quirkier side to the candidate than voters usually get to see. When Charlotte was newly born, ABC News asked Clinton what she wanted her granddaughter to call her. Clinton responded pretty candidly, "whatever she wants...Grandma's fine. Madame President's fine. Whatever she chooses." Har, har, Hillary.
The Clinton's really do seem "over the moon" about their ever-expanding family. So, congrats, to everyone are certainly in order.