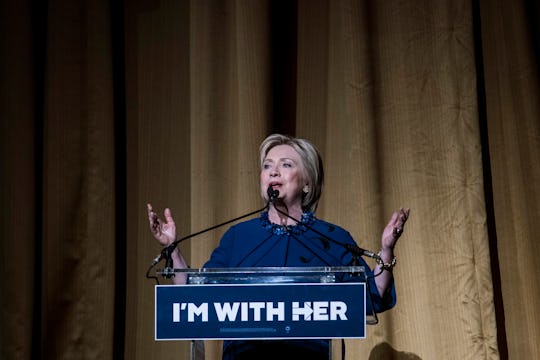 Andrew Renneisen/Getty Images News/Getty Images
Hillary Clinton's Record On Maternal Health Issues Is Long, Distinguished & Hard Won
Former Secretary of State Hillary Clinton has spent her many decades in politics and public life defending women's rights and fighting to expand women's access to health care and family planning. In fact, her current campaign for president has earned Planned Parenthood's first ever endorsement during a primary race based on her record of commitment to women and women's health. Her entire pitch to the American public about why they should elect her as president starts as a young law school graduate who commits herself to helping women and children. So let's take a closer look at Clinton's record on maternal health issues specifically, and how strong her commitment to women and their unborn babies has actually been over the years.
There are many ways to advocate for maternal health, and Clinton has had her hands in just about all phases, from working to expand health care to rural areas, fighting for, and winning, tax breaks to low income families, fighting for women's social and economic justice and expanding access to birth control and sex education. As one of the most prominent and powerful women in the world for more than 30 years, she has worked to champion the issues that matter most to women.
You don't have to look much beyond her simple Twitter profile to know the issues she cares most about. She identifies herself first and foremost as a "wife, mom, grandma, women+kids advocate," her credentials get must more ambitious after those... "FLOTUS, Senator, SecState" but then she comes back to being just another one of the girls by rounding out her profile with "hair icon, pantsuit aficionado..." All the LOLs aside, Clinton takes being a woman and a mother very seriously, and she's got the record to prove it.
Expanding Health Care for Families
Starting as far back as 1979, Clinton started her work for mothers and families by serving as Chairwoman for the Arkansas Rural Health Advisory Committee, which expanded health care for people who live in remote, rural areas in Arkansas, including pregnant women and children.
Advocating for Kids & Families
As Arkansas First Lady Hillary Clinton founded the Arkansas Advocates for Children and Families to "ensure that all children and their families have the resources and opportunities to lead healthy and productive lives and realize their full potential." For more than 30 years now, the organization has worked to protect kids, their health, their families and their access to opportunities through tax breaks for low-income families.
CHIP Health Insurance
As the first lady of the United States, after her attempt at reforming health care failed, Clinton worked behind the scenes with Sens. Ted Kennedy and Orin Hatch to create the Children's Health Insurance Program (CHIP) which cut the number of uninsured children in half.
Declared Women's Rights Are Human Rights
Clinton's 1995 speech to the UN in Beijing was a watershed moment for women's rights (and by extension, mother's rights) when she famously declared "human rights are women's rights and women's rights are human rights, once and for all. Remeber the pink suit? It was a big deal for moms all over the world.
Closing the Pay Gap
Clinton is making paid leave and pay equality prominent policy issues in her campaign. The former Secretary first introduced and co-sponsored legislation including the "Paycheck Fairness Act" in 2005, 2007 and 2009 to close the pay gap. With more than 30 percent of American households relying on a woman as the primary breadwinner, according to Pew Research, giving women a raise and paid leave to take care of new babies would be a big step toward helping maternal health.
Reproductive Rights
Clinton has also spent her entire public career fighting restrictions on birth control and family planning options for women including fighting to make emergency contraception available over the counter, and legislation that would have designated birth control as abortion. Clinton also worked to launch the National Campaign to Prevent Teen and Unplanned pregnancy through better birth control access and sex education.
Although her career hasn't necessarily been controversy-free throughout the years, it's safe to say that Hillary Clinton is, indeed, invested in maternal-health issues — something that everyone can get behind.