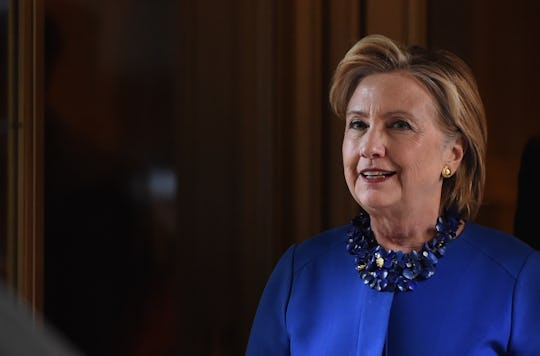 TIMOTHY A. CLARY/AFP/Getty Images
Hillary Clinton's Response To Donald Trump's Press Conference Was Short & To The Point
Republican candidate Donald Trump had been hinting at an attack on former president Bill Clinton for a while — and just prior to his second presidential debate with Clinton's wife (and, more importantly, Democratic nominee) Hillary Clinton, he struck. When Trump launched a press conference with several women who have accused Bill of sexual assault, Hillary didn't let it sidetrack her. Instead, Hillary Clinton's response to Trump's press conference was to call out it out as a "stunt" and made it clear she would not be derailed.
Jennifer Palmieri, Hillary's communications director, released a statement on Hillary's campaign website Sunday night that called Trump's press conference his "latest act of desperation." The statement read:
We're not surprised to see Donald Trump continue his destructive race to the bottom. Hillary Clinton understands the opportunity in this town hall is to talk to voters on stage and in the audience about the issues that matter to them, and this stunt doesn't change that. If Donald Trump doesn't see that, that's his loss. As always, she's prepared to handle whatever Donald Trump throws her way.
Clinton simply tweeted out a screenshot of the statement, followed by a brief tweet that read only "Remember," alongside a GIF of First Lady Michelle Obama saying, "When they go low, we go high."
In the press conference, which was broadcast live on Facebook, Trump met with Paula Jones, Kathy Shelton, Juanita Broaddrick, and Kathleen Willey, according to Time. Trump reportedly ignored reporters' questions about his own comments about women in 2005.
This story is developing and will be updated...