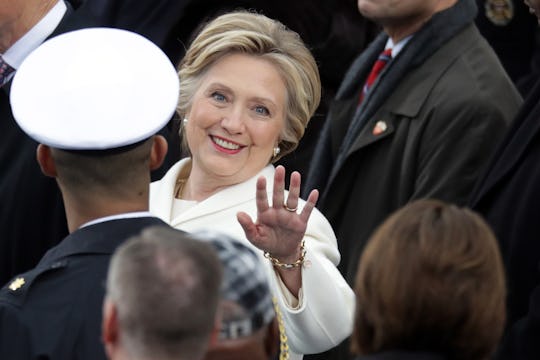 Chip Somodevilla/Getty Images News/Getty Images
Hillary Clinton's Response To The Airport Protests
After dozens of airline passengers around the country were detained or sent back to their home countries as a result of President Donald Trump's travel ban, protests erupted at airports around the country. Departing from her recent silence on Trump's transition into power, Hillary Clinton's response to the airport protests stood in firm opposition to the policy and in full support of protests that she said stand up for what America actually values. Her statement comes as a surprise, since she's been standing steadfast in her decision to ensure a "peaceful" transition of power for Trump. But it's clear that the ban on immigration from countries "with ties to terror," according to ABC News, may have just taken this transition of power too far.
In a tweet at almost 11 p.m. on Saturday, just after a Brooklyn judge issues a national stay on Trump's travel ban, Clinton tweeted "I stand with the people gathered across the country tonight defending our values & our Constitution. This is not who we are."
Two Iraqi men with valid U.S. visas attempted to reenter the country on Saturday, but they were detained as a result of Trump's executive order, which banned immigration from Syria, Yemen, Sudan, Somalia, Iraq, Iran, and Libya for 90 days, according to ABC News. The policy also completely suspends the relocation of Syrian refugees to the United States indefinitely.
Thousands of people protested at John F. Kennedy Airport in New York, where the two Iraqi men were detained, according to 9 News. Hours later, the American Civil Liberties Union filed suit on their behalf. In total, ABC News reported that 55 people at airports across the country were sent back to their home countries or were detained on Saturday as a result of the immigration ban.
The stay issued by the Brooklyn judge means that people cannot be deported if they are being held at airports, according to NBC News. But, those who have already been detained do not have to be be released, according to NBC.
According to footage, tweets, and images from across the country, people were horrified at the results of the immigration ban, which, according to 9 News, included a Rutgers student who went home to Syria to visit her ill mother and couldn't return to the U.S., and others who were employees of different companies who were not being allowed to return from visits to their home countries.
Clearly their messages resonated with Clinton, because this is the first time she's spoken out about something that is directly tied to a Trump Administration policy. She had previously praised the Women's March on Washington and its sister marches around the world, but that was definitely less of a direct response to a specific Trump policy.
Back in June 2016, after the Orlando nightclub shooting, Clinton offered a more specific critique of Trump's policy by pointing out that most of the terrorists who attack within the U.S. were born and raised in the U.S., according to TIME:
The terrorist who carried out this attack wasn't born in Afghanistan as Donald Trump said yesterday. He was born in Queens New York, just like Donald was himself.
She said Trump's Muslim travel ban "would not have saved a single life in Orlando."
It's unclear if she still holds that specific belief, but one thing is totally clear: that Clinton stands by the notion that such a ban is un-American and does not represent the values of a country created and held together by immigrants and refugees.