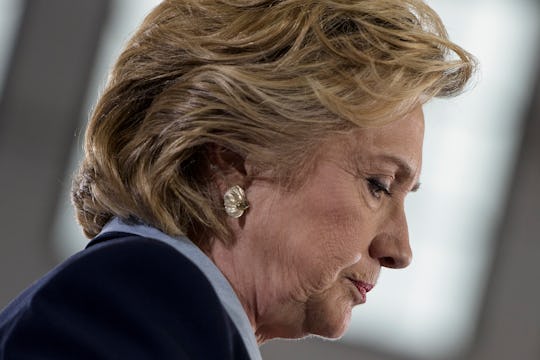 BRENDAN SMIALOWSKI/AFP/Getty Images
Hillary Clinton's Response To The Las Vegas Shooting Makes A Crucial Point About Gun Safety
Former Democratic presidential candidate Hillary Clinton took to social media on Monday morning to express her condolences for the lives lost in the wake of the mass shooting in Las Vegas. But in her statement, Clinton did more than offer platitudes to the families of the estimated 58 people reportedly killed Sunday night, or the hundreds more who were injured in the shooting and the chaos that ensued afterwards. Instead, Hillary Clinton's response to the Las Vegas shooting made a crucial point about moving toward a bipartisan solution on comprehensive gun safety laws. In fact, she offered a sharp criticism for a policy currently in Congress that would make it easier to buy gun silencers, according to an ABC News report.
Update: As of 6 p.m. ET on Monday, Oct. 2, CNN reports that 59 people have died and over 500 people were injured. Authorities say the suspect had 18 additional firearms, explosives and several thousand rounds of ammo at his home in Mesquite, NV.
"Las Vegas, we are grieving with you," Clinton tweeted on Monday. "The victims, those who lost loved ones, the responders, & all affected by this cold-blooded massacre." She later wrote, "The crowd fled at the sound of gunshots. Imagine the deaths if the shooter had a silencer, which the NRA wants to make easier to get."
Clinton finished her series of tweets by adding that "our grief is not enough," and calling for leaders to "put politics aside, stand up to the NRA, and work together to try to stop this from happening again."
Clinton's statement was likely referencing a bill introduced in the House this past January and now part of the omnibus Sportsmen's Heritage and Recreational Enhancement (SHARE) Act, ABC News reported. Called the Hearing Protection Act, the bill would deregulate the sale of gun silencers, remove gun silencers from the federal definition of "firearms," and allow individuals to buy them without a background check.
South Carolina Congressman Jeff Duncan, who co-sponsored the legislation along with Texas Rep. John Carter, wrote in a statement last January that the bill was about protecting the safety of gun owners:
I'm very active in sport shooting and hunting, and I can't tell you how better off the shooting sports enthusiasts would be if we had easier access to suppressors to help protect our hearing. My hearing has been damaged because of gun noise. Had I had access to a suppressor, it may have protected me, as well as millions of other Americans, from this sort of hearing loss.
Under current law, anyone who purchases a device designed to reduce the sound that a firearm makes must follow the same registration procedures as someone would if buying a machine gun or assault rifle, according to The Washington Post.
But, critics argue that making it easier for people to buy unregistered, unregulated gun silencers could make death and injury more likely when a mass shooting occurs. As Clinton wrote in her statement Monday, without the sound of gunshots to alert innocent bystanders to danger, it's likely that many more people might have been killed or injured before anyone was able to detect an active shooter in the area.
According to a CNN report, a hearing on the bill scheduled in the House for this past June had to be cancelled when a gunman opened fire at a Republican congressional baseball practice. The bill later passed in the House Committee on Natural Resources, but has not yet been scheduled for a floor vote, CNN reported.
In a televised press briefing on Monday afternoon, White House Press Secretary Sarah Huckabee-Sanders declined to respond to Clinton's statement or her call for stronger gun protections. "It's very easy for Mrs. Clinton to criticize or come out [to talk about legislation]," Huckabee-Sanders said, according to the Chicago Tribune. "But we need to remember that the only person with blood on their hands is the shooter."
Huckabee-Sanders told reporters that she did not know any details on President Trump's plans to sign the Hearing Protection Bill, if passed by Congress, in light of the Las Vegas shooting. But, without Clinton's response, this topic may have been entirely overlooked.