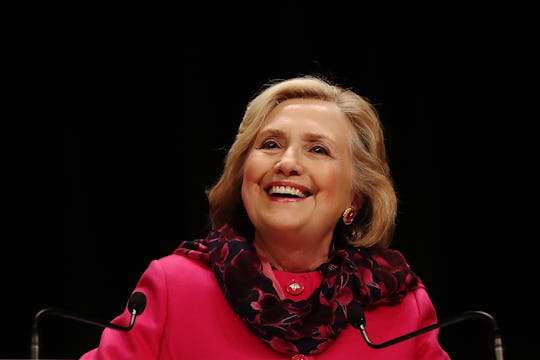 Hannah Peters/Getty Images News/Getty Images
Hillary Clinton Has A Message For Americans That'll Fire You Up
The stakes are high for every election, but the political landscape of the past few years seems to have risen them for the 2018 midterm elections. No one seems to be stressing that more than other politicians, who have taken to social media platforms urging people to vote. And Hillary Clinton's response to the midterm election results on Wednesday highlights just how important these elections really are and, despite some historic wins, that there's still a long fight ahead.
On Wednesday, Nov. 7, Clinton took to Facebook to share a statement about the results. First, she congratulated "all the voters, volunteers, organizers, and candidates who voted last night to put a powerful check on this administration and start building a better future for everyone in our country."
Clinton said Tuesday was a "historic night in so many ways," and she's right. According to NPR, the 2018 midterms marked a "rainbow wave" of LGBTQ candidates and a "record number of women" have been projected to win seats in the House, as CNN reported. Additionally, the Democrats regained control of the House of Representatives for the first time in eight years, while Republicans held control of the Senate, according to The Atlantic.
In Clinton's statement, she specifically mentioned Sharice Davids and Deb Haaland's respective wins as they're the first Native American women to serve in Congress, as well as Rashida Tlaib and Ilhan Omar, who are the "first Muslim women to serve."
Ayanna Pressley and Jahana Hayes were also mentioned in Clinton's statement, celebrating their wins that make them the "first black women to represent Massachusetts and Connecticut in Congress, respectively." Tish James, Janet Mills, Cindy Axne, Abby Finkenauer, Alexandria Ocasio-Cortez, Lucy McBath also got shout-outs from Clinton.
Clinton's statement continued, "These historic firsts are important not just because representation matters (and it does), but because these extraordinary women will bring perspectives that have been absent from our policy debates for far too long."
Clinton also mentioned an importance of voter rights, and states that have taken measures to secure them. "There were important wins for rights, too, including Floridians voting to restore the voting rights of 1 million of their fellow citizens and Nevada approving automatic voter registration," she wrote, adding:
None of these victories would have been possible if people had simply given up after the heartbreak of 2016. They belong to all the volunteers and candidates who worked impossible hours, logged hundreds of miles, and knocked on countless doors... Win or lose, what you've built will continue long after last night... Our work is far from over. As we celebrate our wins, let's be clear about what's ahead... This is a crucial step in a long road to repairing our democracy. It'll take all of us to do it. What a start this is.
Ahead of the results coming in, Clinton took to Twitter on Tuesday morning to remind people just how voting is.
In a thread of tweets ahead of the results being announced, Clinton encouraged people to get out to vote in this highly anticipated midterm elections. "For the past two years, we've watched this administration attack and undermine our democratic institutions and values. Today, we say enough," Clinton tweeted. She then followed up with a second tweet, stating:
But we won't just vote against radicalism, bigotry, and corruption today. We'll vote for fantastic candidates all over the country — including a historic number of women — who want to raise wages, fight for justice, and help more people get health care.
This series of tweets was Clinton's clear ask for Americans to put a check on President Donald Trump. Trump himself has spoken of the midterms as presenting a referendum on his presidency. At a recent rally in Ohio, Trump said, according to MSN News, "In a sense, I am on the ticket. You've got to go out and vote."
Both Clinton and Trump's urgings make sense, given the split of the House and Senate. Forecasts had predicted that Democrats had over an 87 percent chance of controlling the House, meanwhile, FiveThirtyEight reported that Republicans had an 80 percent chance of controlling the Senate — both of which happened.
Clinton also showed clear investment in the governor elections taking place across the country, previously tweeting, "Governors set the tone and direction for their states. They're also our last line of defense against some of the Trump administration's worst policies. So pick a candidate—or two or three—and help flip one of these 17 races. One week to go."
Governor candidates that Clinton had endorsed include, according to Fox News: David Garcia in Arizona, Molly Kelly in New Hampshire, Janet Mills in Maine, Gretchen Whitmer in Michigan, and Mark Begich in Alaska,
Recently, Clinton also backed Stacey Abrams, who ran in Georgia's governor race as the nation's first Black female governor ever, as reported by CNN.
When it comes to the outcomes of the 2018 midterm elections, despite the wins, it's clear there is still a long fight ahead. And Clinton's responses illustrate just how important it is for people to remain politically aware.