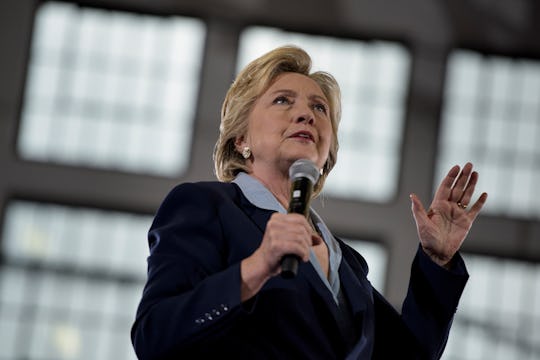 BRENDAN SMIALOWSKI/AFP/Getty Images
Hillary Clinton's Response To The Vice Presidential Debate Was More Of A Fact-Check
There was plenty of buzz and anticipation in the days leading up to Tuesday night's showdown between Democrat Tim Kaine and Republican Mike Pence at the first and only vice presidential debate. Viewers were paying attention to how the VP hopefuls would compare to their presidential counterparts' first debate last week, which reportedly drew in a record 84 million viewers. The vice presidential debate on Oct. 4 was also expected to attract a huge audience even though Kaine and Pence weren't really the people that undecided voters necessarily wanted to hear from most. Regardless, Hillary Clinton's response to the vice presidential debate reminded Americans just how important this debate is towards the outcome of the this year's election.
According to The New York Times, the meeting between Gov. Mike Pence of Indiana and Sen. Tim Kaine of Virginia was the "least anticipated vice-presidential debate in 40 years." That might be because the 90-minute uninterrupted forum starred two men who have remained somewhat out of the political spotlight throughout their careers. For example, Kaine called himself "boring" just before being selected as Clinton's running mate and Pence introduced himself as Donald Trump's understudy at the Republican National Convention by saying, "to those of you who don't know me, which is most of you...." (Not a great sell, Mike.)
But, the less dramatic and calmer Kaine-Pence debate might just be what voters needed to view in full form. Clinton's remarks made remarkably clear the fact that she and the Virginia senator are on the same team, even though the Democratic presidential nominee and her running mate have different views on some issues important to voters.
On Tuesday night, Clinton and her campaign were paying close attention to the discussion and commented throughout debate, fact-checking her rival's running mate the entire way:
The previous week, Kaine too had been quick to cast support for Clinton following the first presidential debate. "I think it really showed her off to be commander-in-chief and president," Kaine said of Clinton's debate performance last week, according to an interview with ABC News.
In the days leading up to the vice presidential debate, it became clear that Clinton would not physically be in attendance at the debate hall because, according to her schedule, she was scheduled to be elsewhere earlier in the day. On the day of the debate, Clinton was holding an organizing event in Harrisburg, Pennsylvania until 5 p.m. ET. On the following day, Oct. 5, Clinton was scheduled to be at a Washington, D.C. fundraiser at 2 p.m. ET.
But whatever the case, Clinton's quick response reminded voters that she wasn't missing a beat — despite her hectic schedule on the campaign trail.