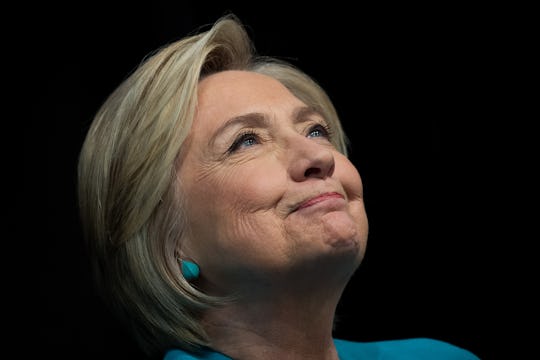 Drew Angerer/Getty Images News/Getty Images
Hillary Clinton Responds To Trump Criticizing Her Book & Doesn't Hold Back
Hillary Clinton is back with her new book, What Happened — a succinct title that asks the question so many Americans did the morning after the 2016 election. Clinton is out making the book tour rounds to promote her book, and of course, President Trump has something to say about it. On Twitter, Trump had no problem dumping all over Clinton's book, even whipping out the "Crooked Hillary moniker" for the occasion. Hillary Clinton's response to Trump trashing her book was pure social media savagery.
Clinton's take on the 2016 election hit bookstores on Tuesday, but it took Trump two whole days to actually call Clinton out by name on Twitter. On Tuesday, Trump lashed out, tweeting, "Fascinating to watch people writing books and major articles about me and yet they know nothing about me & have zero access. #FAKE NEWS!" — but on Wednesday, he went right for the jugular, finally acknowledging both Clinton and her book. Trump tweeted, "Crooked Hillary Clinton blames everybody (and every thing) but herself for her election loss. She lost the debates and lost her direction!"
With the election far behind her and no official political office or title to hold onto at the moment, Clinton was able to respond freely.
"If you didn't like that book, try this one — some good lessons in here about working together to solve problems," Clinton tweeted. "Happy to send a copy." Her tweet was accompanied by a photo of her new children's book, It Takes a Village, illustrated by Marla Frazee. Clinton's children's book also hit bookstores on Tuesday and yes, you can get It Takes a Village on Amazon. The 117-word picture book distills Clinton's 1996 classic of the same name into an approachable work for kids of all ages.
It's been refreshing to see Clinton get some of her edge back following such a devastating loss last year. (To be honest, I'm actually shocked that Clinton hasn't yet been blocked by Trump on Twitter, because it's one of his many petulant ways to avoid debate rather than engage with people who make legitimate counterpoints to his on Twitter.) This isn't the first time Clinton has tangled with Trump on Twitter, but it's certainly one of the most satisfying to date.
On Thursday, The Guardian's review of Clinton's book labeled it an "autopsy" of the 2016 election, praising it for its "entertaining" meanness:
What Happened is quite different from Clinton's careful, tedious autobiographies. Those books tried to sell a wise and relatable candidate to the public, while playing down controversies. Her new book is more gossipy, it is meaner, more entertaining and more wrong-headed than anything she or her speechwriters have written before.
Her tweet responding to Trump's own 140-character review of her book was equally as entertaining and "mean" — but people really need to get off Clinton's case for actually standing up for herself. The White House responded to Clinton's book on Tuesday, as White House Press Secretary Sarah Huckabee addressed reporters, calling it "sad" that "the last chapter of her public life is now going to be defined by propping up book sales with false and reckless attacks." Huckabee failed to address whether the president actually planned to pick up and read What Happened, but let's face it: Trump probably hasn't — and won't — read Clinton's book.
As Clinton geared up for her book tour, several political outlets reported that some Democrats were "dreading" Clinton's return to the spotlight. It's enormously frustrating that there are large swaths of people — some within her own party — who expect the first female presidential nominee to just quietly slink away into the darkness, tail between her legs, just because she lost. Personally, I've had it with the "sit down and shut up" response that some have had to Clinton's book, Trump included. She has every right to speak out about her perspective on last year's election.
Here's hoping that Clinton's snark will help to light a fire under Democrats, reminding progressives that Trump needs to be called out for acting like the child king he's been for the past nine months.
Watch Romper's new video series, Romper's Doula Diaries:
Check out the entire Romper's Doula Diaries series and other videos on Facebook and the Bustle app across Apple TV, Roku, and Amazon Fire TV.