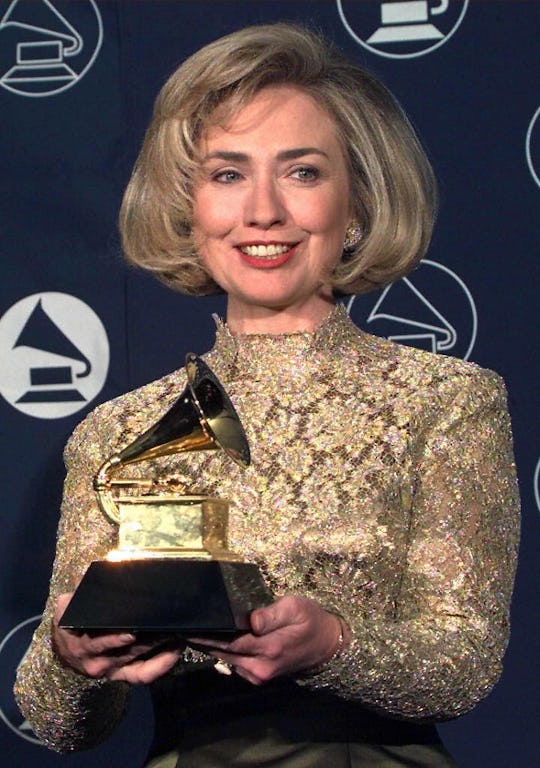 JON LEVY/Getty Images
Hillary Clinton's Tweet About 'Hamilton's Grammys Performance Shows She's A Super Fan
One of the most anticipated Grammys performances this year was the cast of Broadway's biggest, new musical Hamilton. And one very prominent person was clearly as interested in the performance as any other superfan. Hillary Clinton's tweet about the Hamilton Grammys performance made it clear that she was watching and that she knows the show (or at least someone on her team does). Right after the cast performed, the former Secretary of State and Democratic presidential candidate tweeted a line from the show, plus her vote of approval: "Can we get back to politics, please? (Great job, @HamiltonMusical.)"
This isn't the first time Clinton has referenced the hit musical. In November, she quoted the show in a tweet, too, referencing a GOP debate. Hillary supporters and Hamilton fans were quick to catch onto it. One supporter wrote "this is not a drill Hillary Clinton quoted Hamilton in a tweet." The highly acclaimed musical is the hardest to get into show on Broadway right now and will probably set you back just as much as a Beyoncé ticket this summer and it went on to win the Grammy for Best Musical Theater Album Monday night. So it's not surprising that it has attracted Clinton's attention.
During the Grammys broadcast, the cast performed the musical's first song live from New York City. The positive reactions on Twitter were immediate and euphoric — people really, really love the show. Part of the appeal is the music and lyrics, and part of it is a brilliant concept that casts actors of color in major roles in American history, a narrative from which minorities have long been excluded. But I have to imagine that Clinton's tweet felt pretty great.
Clinton knows whereof she speaks, in terms of the musical, yes, but also the Grammys. In 1997, Hillary actually won a Grammy for Best Spoken Word Album for the audio book version of It Takes A Village. But her tweet proves mostly that she's interested in a show that is hugely popular with the younger voters she's looking to attract and aligned with its central premise that inclusion is integral to patriotism. And now, Hillary, we can get back to politics.