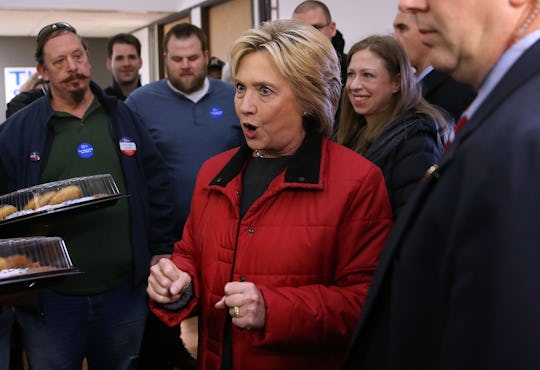 Justin Sullivan/Getty Images News
Hillary Clinton's Tweets About The Iowa Caucuses Show Her Campaign Wasn't Leaving Anything To Chance
In the race to get every Democrat in Iowa out to caucus for their favorite candidate, former Secretary of State Hillary Clinton didn't leave any stones unturned. Just minutes before the Iowa caucuses were set to begin, the Democratic frontrunner took to social media to remind voters exactly why that part of the nomination process is so important. Hillary Clinton's tweets about the Iowa caucuses were designed to put new caucus-goers firmly in the Clinton camp.
Heading into Monday night's Iowa caucus — the first of the presidential primary season — Clinton held a slim lead over Vermont Sen. Bernie Sanders in polls of likely caucus-goers, according to the Des Moines Register. But the wild card for both campaigns was exactly how many new voters would turn out in favor of either candidate. National political strategist David Axelrod told the Register that, while seasoned voters were likely to support Clinton, a deluge of new caucus-goers could easily turn the results in the other direction. ""Turnout is everything," Axelrod said. "If turnout is within a normal range, Hillary likely wins. If it goes higher, approaching 200,000, it will be a good night for Bernie."
Within the first hour of voting, CNN reported early poll figures predicting a lower-than-expected turnout of first-timers. A CNN poll showed 41 percent of caucusgoers were first-timers, down from 57 percent in 2008.
Still, Clinton's live-tweeting of the Iowa caucuses showed that the frontrunner's team was unwilling to give up new voters so easily. Here are some of her voter messages on Monday night.
This story is developing...