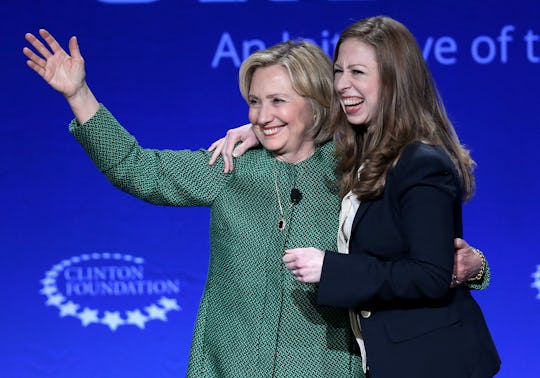 Joe Raedle/Getty Images News/Getty Images
Hillary's Comments On Being A Grandmother Are Seriously Powerful
Beyond her powerful and bad ass role as a seasoned politician and maybe-soon-to-be-presidential-Democratic-nominee Hillary Clinton is a person underneath that well tailored power suit. And despite what the media might say about her personality, at Clinton's core is a warm hearted and loving person. So, it is no surprise that Hillary's comments on being a grandmother are seriously powerful.
You've got to love a woman who is proud of being a woman and Clinton isn't afraid to let people know that, especially in a profession and election so heavily dominated by men. In honor of March being Women's History Month, it is important to focus on women in all of the different roles they can be — whether it be the only female running in the 2016 presidential primary election or a their role as a grandmother. So it comes as a no surprise that Clinton, perhaps one of the most iconic, self-proclaimed feminists, has eagerly embraced all sides of her persona.
"Wife, mom, grandma, women+kids advocate, FLOTUS, Senator, SecState, hair icon, pantsuit aficionado, 2016 presidential candidate," reads the former Secretary's own Twitter bio. If that's not adorable, I don't know what is.
Currently a proud grandmother to 1-year-old Charlotte, daughter of former first kid Chelsea, Clinton has one more grandchild on the way, and plenty to say about it. Just read these cute and powerful comments for yourself and feel the love.
"Grandma's fine. Madame President's fine. Whatever she chooses."
In a September 2015 interview with ABC News anchor, David Muir, Clinton was asked what she wanted Charlotte to call her. Clinton told Muir that Charlotte can call her "whatever she wants" but then cleverly replied with the line quoted above. While Madam President might be too formal of a title for a grandmother and a far cry from a name like Meemaw, it showed that Clinton isn't afraid to crack a good joke every once in a while at her own expense.
"I think my granddaughter has just as much God-given potential as a boy who was born in that hospital on the same day."
In a speech given just a few days after the birth of her granddaughter in October 2014, Clinton made this powerful statement in regards to the future of her granddaughter and highlights her fight for equality and rights for all women.
"I want to be for my grandchild what my mother was for her grandchildren. She was challenging, she was emotionally supportive, but she was also clear in setting expectations."
Just like her role in politics, Clinton's stance as a grandmother seem to be very similar — she is not going anywhere and will push her granddaughter to be the best she can be, giving her an opportunity to do so. She makes it very clear that her granddaughter can accomplish anything but she has got to meet her grandmother's expectations first. How is that for some expectations?
"You know, I feel like I am very anchored in the moment with Charlotte when I'm with her because she's unfolding. The curiosity is exploding and she's learning something every second it seems."
In a January interview with Lifetime's The Conversation host, Amanda de Cadenet, Clinton got personal about her relationship with Charlotte. Clinton cited that Charlotte had inspired her to make the world a better place and the passion in the quote shows. It seems like Charlotte has granted Clinton with a new set of eyes that can be instrumental on the campaign trail. By looking at the world as something that is still unfolding, Clinton could see some untapped potential in the American people.
Not all of Clinton's "grandmother" commentary has gone over so well with supporters. This past December, Clinton had a list on her campaign website titled "7 things Hillary Clinton has in common with your abuela." Clinton, who is not Hispanic, came under major scrutiny for the post and inspired the hashtag, #notmyabuela, listing ways that Hillary was not like their own "abuelas", or "grandmothers."
Still, despite the kerfuffle, it seems most of Clinton's comments about her granddaughter and her own role as a grandmother easily prove that she has a clear vision for what her future — and the future of the nation's children and grandchildren — should look like.