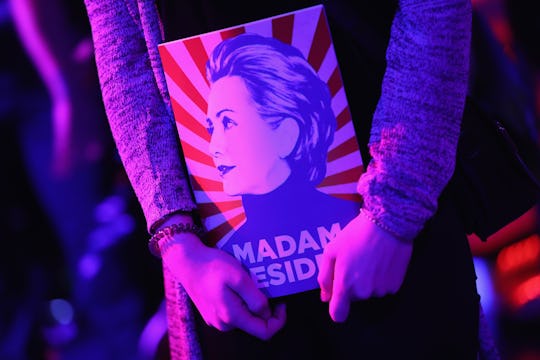 Sean Gallup/Getty Images News/Getty Images
Hillary's Thank You Message To Pantsuit Nation Proves That Women Run The World
During what is sure to be a historical election, regardless of the nominee voted in as president of the United States, Democratic nominee Hillary Clinton proved that not only are we all in this together, but that women are running the show. Hillary's thank you message to pantsuit nation was the uplifting, inspiring, and empowering speech voters around the country have come to expect from the former Secretary of State.
Earlier during what can only be described as a tumultuous, triggering and exhausting presidential election, a secret Facebook group of Clinton supporters — aptly named Pantsuit Nation — was created, banding together to encourage would-be voters to wear pantsuits to the polls on Election Day. In just three weeks, the private group reached an astounding 2 million users. On Tuesday, prior to the first election polls closing and in the hopes that the odds would swing in her favor, Clinton issued a public thank you to the group via a campaign official, belonging to the private Facebook group.
The official stated that Clinton had personally seen the numerous posts from the millions of users and wanted to say, "Thank you directly." Then, Clinton issued the following statement:
"I'm honored and humbled to have all of you with me," Clinton wrote, "but I'm even prouder to see this community represent the best of America: people of all backgrounds and beliefs who share a vision for a brighter future for our children, and who have each other's backs."
An hour after it went live, a reported 50,000 likes and more than 6,500 comments were attached to the uplifting, heartfelt post.
Even the Queen herself, Beyoncé, pantsuited up to show her support for the potential first woman president of the United States of America. If the following picture doesn't prove the power of women (and the pantsuit, as it were) I think it's safe to say you'll have a difficult time finding anything that does.
While this election has been nothing short of contentious and polarizing, it's nothing if not inspiring and heartfelt to see women of all shapes, sizes, colors, creeds, nationalities and life choices, come together for a common goal and support one another in the pursuit of said goal (and the support of one woman, in particular). It's more than obvious that the magnitude of a self-created group like Pantsuit Nation wasn't lost on Clinton, and her taking the time to thank her supporters during arguably the most important night of her life, is proof.