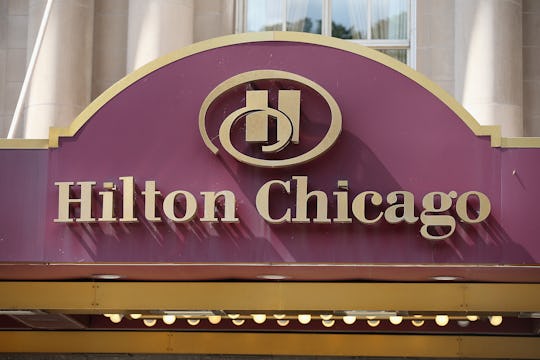 Scott Olson/Getty Images News/Getty Images
Hilton Gives All Of Its Employees Paid Parental Leave, & It Sets An Example
In the rest of the developed world giving workers paid family leave is just part of the cost of doing business. In the U.S. it's a much different story. Things are slowly changing for American workers and the news that, starting this year, Hilton will give all of its employees paid parental leave is a step in the right direction, but there's still more work to be done.
First, let's give credit to Hilton Hotels, because offering every single one of its 40,000 employees paid parental leave is a huge deal and will make a big difference in thousands of families' lives. The new policy applies to every worker from the boardroom to the kitchen, according to NPR. It's great news for cash-strapped and stressed out American families. Only 12 percent of American workers get any kind of paid family leave, according to the Department of Labor.
The Chief Human Resources Officer for Hilton, Matt Schuyler, told NPR the reason the company made the move was an interest in attracting and retaining the best millennial talent, defined as employees under 35. Schuyler added that millennials make up nearly half of all of Hilton's employees at the moment and soon will fill more than three-quarters of jobs at the company.
And when it comes to attracting millennials, experts have said paid leave is a big deal.
"It could be argued that this generation is inciting a workplace revolution," Maria Black, president of ADP TotalSource, an HR firm, told the Society of Human Resource Management. "Therefore, implementing family-friendly policies has become increasingly important for companies that want to recruit and retain [millennials]."
But when it comes to the Hilton's particular policy, there's room for improvement. First, adoptive parents are only given two weeks of paid leave under the policy, according to NPR, which seems stuck in the past.
Second, men only get two weeks of paid leave. It's good, and better than nothing, but according to research from Harvard, when family leave policies are equally applied to both men and women, workplace discrimination against women decreases, fathers become more inclined to share family and home responsibilities, and kids do better.
So yes, Hilton should be congratulated and held up as a model for instituting more family-friendly policies for its employees. But when it comes to catching up with the rest of the world, The United States has some work to do. Pew Research found that among 41 nations, the U.S. is the only one that doesn't offer paid family leave. To put that in perspective, among the other 40 countries, the least amount of paid leave employers are required to provide is two months, Pew found.