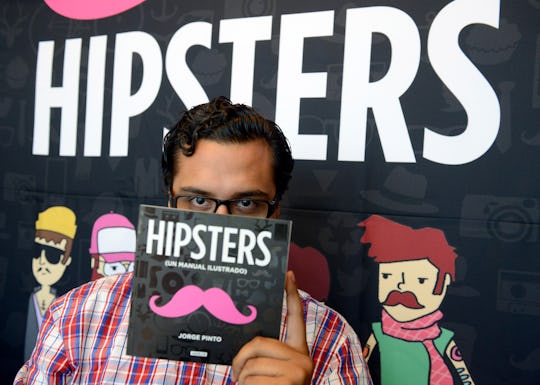 ALFREDO ESTRELLA/AFP/Getty Images
Hipster Dads Prefer The Name "Papa" These Days & It's Left Some Scratching Their Heads
Among the more enlightened, progressive parents of the day, dads are so Saved by the Bell. Anecdotally, of course, and primarily among the hipsters of Brooklyn, according to a anthropological gem of an article by The Daily Beast's Lizzie Crocker, published Wednesday. To eschew the pathos of their own antiquated fathers and to forge a new path sparkling with the promise of co-parenting and non-GMO cookies for their children, some hipsters are resurrecting the name "papa" over plain old gender normative, "very bland and drab," (as one papa put it) dad. It's a trend that, just like Papa himself, contains multitudes.
"There's no excitement to [dad], and I feel like the word papa nowadays has so many meanings," IT professional — and papa to a 3-year-old daughter named Afton Love — Justin Underwood told Crocker. "We live in an age when fathers are more in touch with their feminine sides and are all right with playing dress-up and putting on makeup with their daughters."
Brooklyn as a whole has a propensity for ushering the hallmarks of a bygone era back into the mainstream of its gentrified confines, free of context, as local webmag Brokelyn points out, offering up a design collaborative's mission to produce cocktail bitters made from toasted crickets there as evidence. "Papa" peaked in popularity in 1870, the Beast reported, so it's high time for the good men and women of BK to bring it back.
But for some of the men who are encouraging their kids to call them papa (half of the kids at one 4-year-old's preschool in Williamsburg do, the boy's papa estimated) doing so actually differentiates them from the past — the more immediate one, at least.
"Parents who consider themselves to be young and hip don't want to be old-fashioned and they think to themselves, 'My dad wasn't a co-parent like I am,'" said Pitzer College linguistics professor Carmen Fought said, according to the Beast.
...There are always women who say, 'Don't call me grandma, it makes me feel so old.' It's that idea—when young people or young parents think about 'dad,' they think of their own parents... There's lots of terminology now about different arrangements people have with parenting. It's a kind of linguistic reclaiming, where these old-fashioned terms are being brought back but with a new meaning.
The moniker "mama" has already experienced its resurgence as shorthand for the alternative, "radical homemaking, attachment parenting, extended breastfeeding bunch," as Elissa Strauss wrote for Longreads in 2015. "Papa," likewise, represents a cultural shift in language as well as outlook, as parents define who they are and how they relate to their children and the world (of parenting, and in general) differently than those who came before.