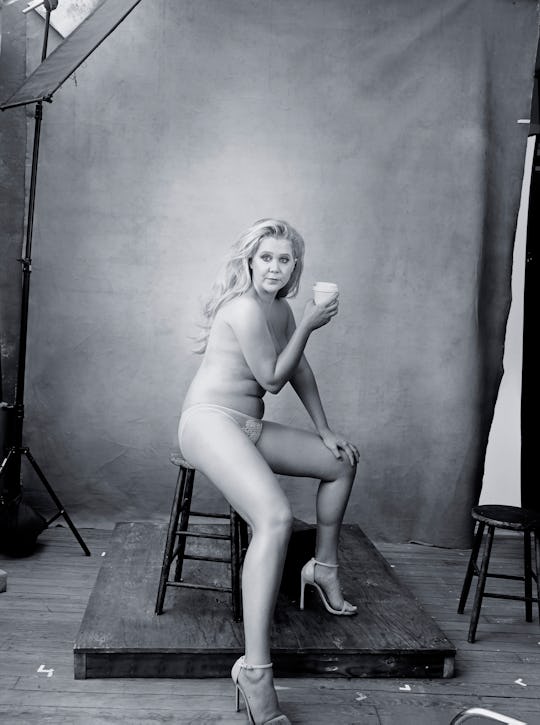 Pirelli
History-Making Pirelli Calendar Features Amy Schumer, Serena Williams, & Other Badass Women Instead Of Supermodels
Nudity? Not this year. The 2016 edition of Pirelli's iconic calendar celebrates talented women without making them take off their clothes — and the Internet is celebrating. The Daily Mail reports that women selected for the Pirelli calendar this year were chosen based on their professional and personal accomplishments, deviating from a traditional preference for models in the buff. Recipients of this year's edition can expect stunning black-and-white photographs of women, including athlete Serena Williams and comedian Amy Schumer. (In other words: Some of the most badass women out there.)
Launched in the 1960s, the annual Pirelli calendar historically served as a sexy advertisement. The New York Times describes it as "the arty soft-core ode to pinups produced by the Italian tire manufacturer, shot by renowned photographers, starring supermodels, and never sold but given to an exclusive group..." This year, the calendar is retaining its exclusivity but shedding dated ideals. For 2016, Pirelli invited famed photographer Annie Leibovitz to give the concept a shakeup. The Daily Mail reports that when Leibovitz initially photographed the calendar in 2000, she aligned her vision with Pirelli's preference for nudes. 16 years later, both Leibovitz and the brand were ready for a change. "This calendar is so completely different," Leibovitz says in a making-of video, adding later, "Every single day we photographed, I was more empowered, you know, with every photograph we took."
The Daily Mail published a complete list of ladies photographed for the 2016 Pirelli calendar, and each one is cooler than the next. They are: Philanthropist Natalia Vodianova; Lucasfilm president Kathleen Kennedy; art supporters Agnes Gund and Sadie Rain Hope-Gund; tennis player Serena Williams; writer Fran Lebowitz; Ariel Investments president Mellody Hobson; director Ava DuVernay; fashion writer and entrepreneur Tavi Gevinson; photographer Shirin Neshat; artist and activist Yoko Ono; musician Patti Smith and actress and comedian Amy Schumer.
Schumer, pictured in her underwear, talked about the experience in the Pirelli making-of video, and said "I felt I looked more beautiful than I've ever felt in my life, and I felt like it looked like me." It's evidence that Leibovitz truly managed to give the Pirelli calendar an empowering makeover.
I mean, just check out this fierce photo of Serena Williams:
I can't wait to see the final products on the other calendar months; because so far, these are straight-up breath-taking.
Images Courtesy of Pirelli