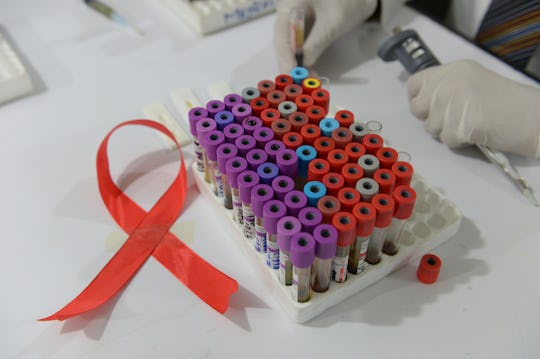 FAROOQ NAEEM/AFP/Getty Images
HIV Patient Zero Gaëtan Dugas Was Not Actually The Source Of The Outbreak, Study Shows
The heartbreak of the AIDS epidemic that killed as many as 500,000 Americans in the 1980s has reverberated through the ensuing decades, and the time since has especially tarnished the reputation and the memory of the man long believed to have brought the illness to the United States. Canadian flight attendant Gaëtan Dugas has long been vilified in the public conscious as the source of the suffering for so many gay men and their families during that tumultuous, confusing time. But a brand-new study confirms that although researchers had inadvertently dubbed him HIV "Patient Zero," Dugas was not actually the source of the outbreak.
Dugas died from AIDS in 1984. That same year, Dugas came up again and again as researchers interviewed 40 men with indicators of late-stage AIDS about their sexual histories and past partners. "They said, 'This flight attendant from Canada. He flew for Air Canada. Geez, he was such a great guy and very handsome,'" behavioral scientist William Darrow told NPR. When they identified this handsome fight attendant, researchers classified him as "Patient O," as in the letter O, which indicated that he lived outside of California, where the study originated. Subjects who lived in Los Angeles, on the other hand, were labeled LA1, LA2, et cetera.
The following simple but significant typographical miscommunication catapulted Dugas' name and face into the realm of "villain," one believed to be responsible for death after death — and who was even allegedly believed to have callously spread the disease knowingly.
But the new study out of the University of Arizona, published Wednesday in the journal Nature, has definitively exonerated Dugas of this perceived culpability, albeit posthumously. In addition to the sleuthing they did to debunk the "Patient Zero" myth — which was propagated in the 1987 book examining outbreak, And the Band Played On — the scientists found that his HIV genome was typical of others found in the United States at the time, and therefore was not the one from which others diversified in North America, according to The Guardian.
In fact, one of the study's coauthors believes that it was Dugas' forthrightness and willingness to help those studying the AIDS epidemic that cast suspicion on him at the time. "Probably what happened here was a case of a guy who was unusually helpful to investigators providing lots and lots of names of sexual contacts," Michael Worobey told The Guardian. "He's just one of many people who is highly sexually active and in this network of people who are popping up as early AIDS cases but he ended up looking up as this central character almost certainly just because of how helpful he was."
In fact, The New York Times reported that Dugas was especially instrumental to researchers because he kept a diary detailing his sexual encounters, and was therefore able to provide 72 names of men he had been intimate with. While the average man in the study reported having about 227 sexual partners a year, Dugas said he had about 250.
Still, that, coupled with his unearned "Patient Zero" attribution, led to Dugas being publicly identified as Patient Zero in And the Band Plays On. Its author, Randy Shilts, was another openly gay man, but he demonized Dugas for allegedly spreading the disease deliberately and wrote that he "played a key role in spreading AIDS across the country." In one passage, he described a harrowing scene:
Club Baths, San Francisco, November 1982 . . . When the moaning stopped, the young man rolled over on his back for a cigarette. Gaetan Dugas reached up for the lights, turning up the rheostat slowly so his partner's eyes would have time to adjust. He then made a point of eyeing the purple lesions on his chest. "Gay cancer," he said, almost as if he were talking to himself. "Maybe you'll get it too."
(Another coauthor of the most recent study, Richard A. McKay, disputes this characterization and has said that Shilts ignored a more positive view of Dugas from his friends in Vancouver, according to The New York Times.)
Dugas isn't alive today to seen his name cleared. He also wasn't alive when it surfaced as that of the culprit. Still, it's important that he be recognized for his cooperation in the AIDS studies that mistakenly labeled him this way.