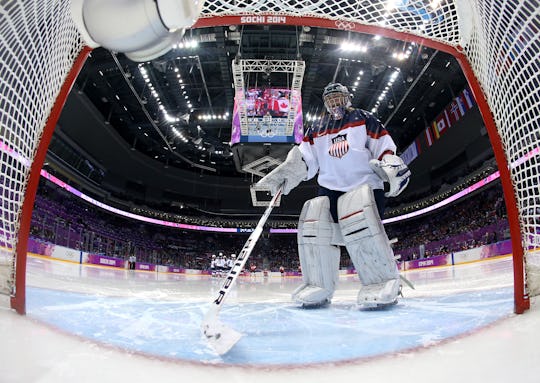 Martin Rose/Getty Images Sport/Getty Images
Goalie Tries Out For Olympic Team 2 Months Postpartum
Doctor recommendations state that people who've given birth should wait at least six to 10 weeks before jumping back into exercise. For many new parents, that means taking regular strolls around the block or speed walking on the treadmill for 20 minutes three days a week. But for a sports star, exercising after giving birth takes on a whole different meaning. Take, for example, hockey goalie Jessie Vetter, who is trying out for the Olympic Team two months after giving birth.
According to NBC Sports, Vetter will head to Tampa with 41 other hockey players for the five-day national-team selection camp, which is being viewed as an Olympic tryout. That's because when the national team is announced next week, it will include the names of 23 players, which is the same size as the Olympic roster, NBC Sports reported. Pyeongchang, South Korea, will host the 2018 Winter Olympics, which open Feb. 9.
Vetter is a two-time Olympian and holds the most U.S. women's hockey career goalie records. She won silver with the U.S. women's ice hockey national team at the 2010 Olympics in Vancouver and the 2014 Olympics in Sochi. According to Excelle Sports, she temporarily hung up her skates last April after getting married to Scott McConnell. The 31-year-old hockey goalie gave birth to their first son, Brady, in late February.
As for what motivates her, Vetter told NBC Sports,
Brady, if he ever wants to do something or have a passion for something, to see it through and give himself the best opportunity to make that happen. There's still a good chunk of the girls I know from 2010 and 2014. It's just seeing them being out there and knowing I can come in and be a positive teammate and a good influence to the younger girls and a good veteran on the team.
Of course, not everyone could jump back into physical activity two months after giving birth — and not everyone should. You may not be able to try out for an Olympic team because you're waiting for your C-section scars to heal or because your doctor put the breaks on physical activity. (Or, more realistically, you're not a sports legend and if you were to show up to Olympic tryouts, people would be really confused.)
Putting your body's abilities aside, maybe you just don't want to. Maybe you want to give your body the rest it deserves after carrying a baby the size of a cantaloupe for nine months. Maybe you're more concerned about other things. There is no law that says you have to become an exercising machine once you're eight weeks postpartum.
While I applaud Vetter's dedication, I also understand that she is the exception and not the rule. Yes, there are benefits to exercising after pregnancy; according to the Mayo Clinic, staying active after giving birth can help boost energy, strengthen and tone abdominal muscles, and catch a better night's rest. But every body is different. They have different abilities, different wants, and different needs. And those wants and needs may not include regular exercise.
That's OK. Don't let anyone tell you otherwise.