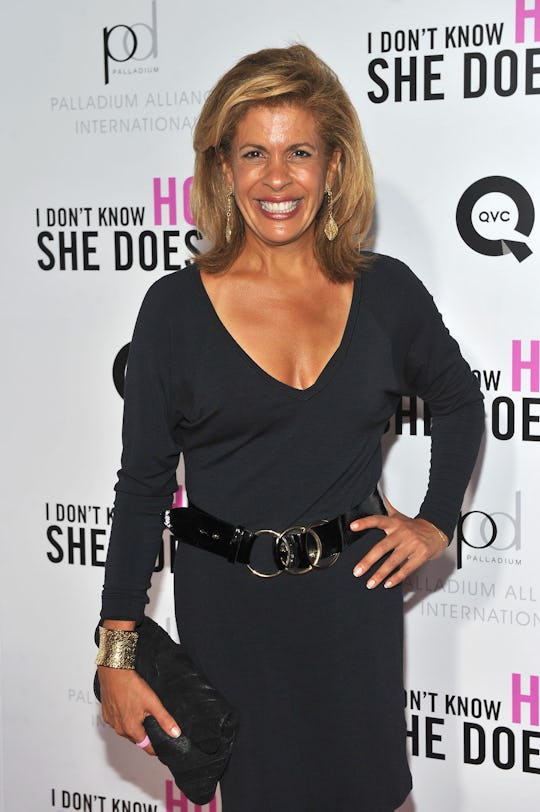 Stephen Lovekin/Getty Images Entertainment/Getty Images
Hoda Kotb Adopts A Baby Girl
It's been a big year for babies over at The TODAY Show, and now congratulations are in order for another new mom following a surprise announcement Tuesday. Hoda Kotb adopted a baby girl, Haley Job Kotb, and shared the big news on the show Tuesday morning, with a little help from her colleague Matt Lauer. After Lauer noted that Kotb had been absent from the show recently, hinting that she may have some big news to share, Kotb joined in by phone for the emotional reveal. After cutting to a photo of herself holding the tiny infant — much to the surprise and confusion of some of her other colleagues seated at the desk with Lauer — Kotb said, "that little girl is my daughter."
As her fellows anchors clapped and shed tears, Kotb explained that baby Haley — who could be heard crying in the background — was "a Valentine's baby," and called her "the love of my life." Kotb also shared that her own mother had come to help her in her adjustment to new motherhood, and when she met her granddaughter for the first time, her first sweet words for her were, "hello Miss Haley, we've waited so long for you."
In addition to Lauer, there was at least one more person Kotb told about Haley in advance: her TODAY show co-host Kathie Lee Gifford. After the news was out, Gifford admitted that she was relieved, and joked, "do you know how hard it has been to keep this secret? I've got the biggest mouth in the world."
As for Kotb's other colleagues? Lauer pointed out that, after hearing the news, Jenna Bush Hager was "crying like a baby," while a surprised Carson Daly said, "I can't believe it. Congratulations." As for Lauer himself? He was clearly overjoyed for Kobt, and said,
This is such fantastic news. This little girl Haley is the luckiest girl on the planet. You are going to be one of the most fantastic moms I can ever imagine.
Gifford chimed in again, telling Kotb, "you were made to be a mom."
That's a sentiment that seems to shared by pretty much everyone who knows and loves the TODAY show host. Although Kotb may have waited 52 years to become a mother for the first time, the messages of love and support that have come pouring in following her announcement suggest that there's no doubt it was meant to be.
But perhaps no one summed it up better than Kotb herself, who took to Twitter Tuesday morning to share a sweet photo, with a quote that said, "And then my soul saw you and it kind of went, 'Oh there you are. I've been looking for you.'"
Although Kotb hasn't yet discussed when viewers might be seeing her back on their TV screens again, it does sound like she'll be checking in from time to time to offer updates on her new life as a mom to baby Haley. But one thing that does seem absolutely certain? She is loving every minute of it.