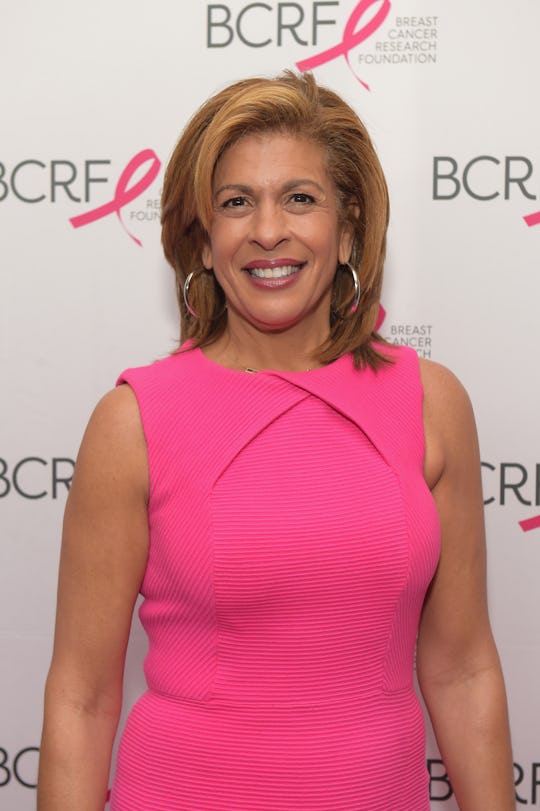 Jason Kempin/Getty Images Entertainment/Getty Images
Hoda Kotb Replaces Matt Lauer On 'TODAY,' & Fans Are So Excited
The recent wave of sexual harassment and assault allegations in Hollywood has left more than a few vacancies in the entertainment industry as the alleged perpetrators are weeded out. Finding appropriate replacements is a necessary, albeit complicated, step following the scandals. But change can be good. Case in point: Hoda Kotb replaced Matt Lauer on TODAY on Tuesday, and people are seriously excited about it.
Kotb — which The New York Times pointed out is pronounced COT-bee — is a longtime NBC News correspondent who has been featured on TODAY in an interim basis following Lauer's removal from the show following allegations of inappropriate sexual behavior. (Lauer's representative has not responded to Romper's request for comment.) The network announced on Tuesday that she would be moving into the position full-time. Kotb's placement marks the first time that two women will lead the show as primary anchors, according to The Times, a potentially profitable move considering the fact that women are the primary viewer demographic for the network's most popular franchise.
Savannah Guthrie, TODAY's other host who has served in her position since 2012 when she replaced Ann Curry, announced the exciting news during Tuesday's show. "We are kicking off the year right, because Hoda is officially the co-anchor of TODAY," she said. "This has to be the most popular decision NBC News has ever made, and I am so thrilled."
She's not the only one who is thrilled by the news. Kotb responded, "I am pinching myself, I think we should send some medics to Alexandria, Va., where my mom has likely fainted after hearing the open of that show!" Guthrie then responded, "Hoda, you are a partner and a friend and a sister and I am so happy to be doing this." Seriously, how sweet are they?
Kotb spoke with People about her close relationship with her cohost and the word "sister" came up once again. "When you click with someone, man, woman, it doesn't matter. If it works, it works. We're sort of like sisters, and everybody wants a sister," she said. Kotb also told People that the network offered her a permanent position on the show shortly before the holidays. She will also continue on in her role hosting the show's 10 a.m. segment with Kathie Lee Gifford for the immediate future.
NBC News chairman Andy Lack is also very excited to bring Kotb on full time, according to People:
We're very fortunate to have someone like Hoda who brings immense talent and tremendous positive energy, and then on top of that happens to have wonderful chemistry with Savannah. It makes this a decision that everyone can embrace and feel terrific about.
Celebrities and fans alike took to Twitter to share their heartfelt congratulations to Kotb and to express their excitement over the future of the TODAY Show. Other members of the network, such as Carson Daly and Al Roker tweeted to their teammate:
Female journalist and my personal superhero Megyn Kelly also got in on the female empowerment congratulation train, sharing her love as well.
There were also some pretty great GIF posts that captured the emotion of the announcement perfectly. Sometimes words alone don't do the situation justice.
From her kind words to the inspiration that she brings, many fans expressed why they believe she is deserving of the role. Positivity goes a long way towards getting people interested so early in the morning, and Kotb has plenty of that to go around.
Some users were also quick to point out how exciting a female-led show is.
While the circumstances surrounding Kotb's move are less than ideal, the creation of a dynamic duo like her and Guthrie is certainly worth celebrating. I know how I'll be spending my mornings from here on out.
Check out Romper's new video series, Romper's Doula Diaries:
Watch full episodes of Romper's Doula Diaries on Facebook Watch.