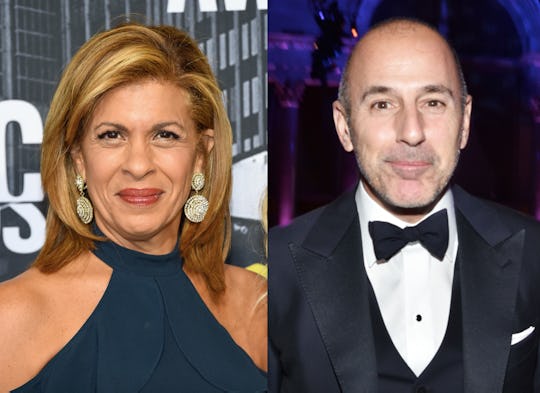 Michael Loccisano/Getty Images Entertainment/Getty Images; Mike Coppola/Getty Images Entertainment/Getty Images
Hoda Kotb Says She's Not Making As Much As Matt Lauer, & It's A Persistent Problem Many Women Face
After Hoda Kotb joined Savannah Guthrie to replace Matt Lauer as co-anchor of the TODAY show in December, ratings soared to beat rival show, Good Morning America — but, regardless of her success, Kotb claimed she is making less money than Lauer, The Huffington Post reported. The 53-year-old journalist had been sitting in for Lauer, who was fired in November for alleged sexual misconduct, according to People, and officially replaced him in December. (Lauer has not responded to Romper's request for comment.) She will lead the first two hours of the program, making history alongside Guthrie as the first time the show has had two female co-anchors. But, the Huffington Post claims that neither she nor Guthrie will be raking in the kind of money that Lauer did, and they're not the only women to be earning less than their male colleagues or predecessors.
Kotb is also planning to stay on as the show's fourth-hour co-host alongsideh Kathie Lee Gifford. However, she told People that she's always done jobs that she likes because she never wanted her pay day to be "the happy day."
"I wanted to feel good throughout," she said to People. "So no, I'm not making Matt Lauer money. Not even close."
While she did not tell People what her contracted salary actually is, Page Six reported that she and her co-host, Guthrie, are each making seven million a year, while Lauer was earning $25 million a year after 25 years at the network. NBC did not immediately respond to Romper's request for comment.
In December, Catt Sadler quit her "dream job" at E! News, which "required a lot of soul-searching" after reportedly learning that she also earned less than her "similarly situated male co-host," Jason Kennedy, she wrote on her website. She claimed she learned that there was a massive disparity in pay, and when she'd asked for equal pay, she said that was repeatedly denied.
"When E reached out to renew and extend my deal, I learned that he wasn't just making a little more than I was," she wrote. "In fact, he was making close to double my salary for the past several years."
Emma Stone, Priyanka Chopra, Jennifer Lawrence, and more have also been outspoken about the gender pay gap in Hollywood, according to People.
The 2014 Sony hack revealed that Lawrence, for one, had earned less money than her male American Hustle costars, and Lawrence subsequently responded in a letter for Lena Dunham's Lenny Letter about why she didn't ask for more money. "I would be lying if I didn't say there was an element of wanting to be liked that influenced my decision to close the deal without a real fight," she wrote in the letter. "I didn't want to seem 'difficult' or 'spoiled.'"
She then saw the numbers on the internet and realized every man she had worked with over the years "definitely didn't worry about being difficult or spoiled," she continued.
Earning less than male peers and predecessors is a persistent problem many women face across all industries. The Labor Department reported that, among all full-time workers in the United States, women earned an average of around 82 cents for every dollar men made in 2016, with women of color earning much less than that.
The Fortune 500 list featured slightly more women CEOs in 2017, increasing from 21 to 32, but they still make up just 6.4 percent of the list, Fortune reported. As of this month, the list of CEOs in the S&P 500 included 29 women (5.8 percent) and 471 men, Catalyst also reported — and among last year's highest-paid CEOs, there were just three women compared to seven men, according to Glamour.
In the medical field, for example, women earn a lot less than their male peers. As for female physicians, they earn an average of 74 cents for every dollar a man makes, which means that they take home an estimated $91,000 less a year, according to CNN.
In the tech sector, women also earn less than men. The gap hits younger women the hardest, according to 2016 research that found that women under 25 years old earn, on average, 29 percent less than men their age; the gap drops to 5 percent for workers over 50, but it's still there.
Look at women in art, too, and you'll find that their work is also undervalued. A recent analysis of auction data from 1.5 million auction transactions in 45 countries between 1970 and 2013, representing works by 62,665 artists, found that the perception of artists' genders influences the value of their art. Art by women sells for about $25,262 on average, which is just 47.6 percent of the price male artists typically sell for at auctions, which is about $48,212, according to The Art Newspaper.
Women in all of these industries are often told to "lean-in" and "speak up," but research suggests that it's bias (not necessarily performance) that's encumbering them in the workplace. Recently, researchers at Harvard tracked the individual work habits of 100 men and women to determine if women conducted themselves differently, talked to different people or spent more time performing different tasks. Ultimately, the researchers found no perceptible evidence that'd suggested women behave any differently than their male counterparts, and this held true for women at each level of seniority, according to the study.
Maybe 2018 will be the year we ditch our biases and women start earning the equal pay they deserve.
Editor's note: After publication, we discovered this article did not meet our editorial standards. There were portions that did not correctly attribute another source. It has been updated to meet our standards.
Check out Romper's new video series, Romper's Doula Diaries:
Watch full episodes of Romper's Doula Diaries on Facebook Watch.