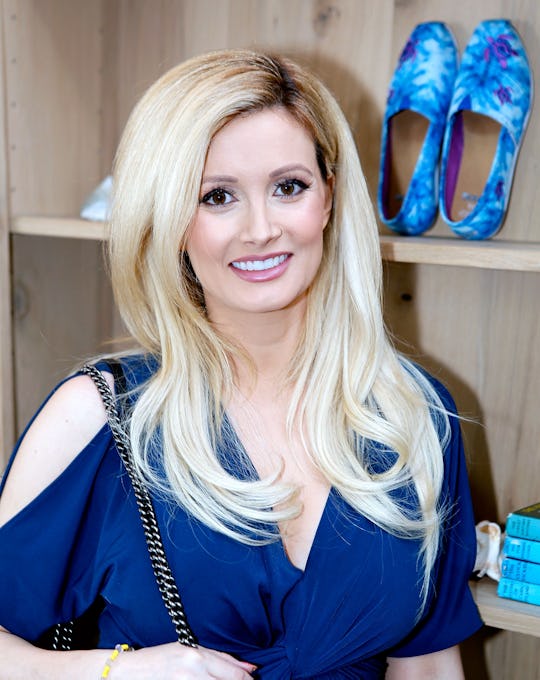 Randy Shropshire/Getty Images Entertainment/Getty Images
Holly Madison's Biggest Fear About Having A Son Brings Up An Important, Modern Question
When it comes to motherhood, it is natural for there to be certain fears associated with certain things. And while motherhood might not be so scary itself, the little details that go into it can be the worst part of all. For reality star and New York Times Best Seller Holly Madison, her fear is justified. And Holly Madison's biggest fear about having a son brings up a very important question.
Holly Madison is no stranger to motherhood. Madison is the mom of her daughter Rainbow Aurora Rotella, who is three years old and has one of the coolest names, ever. Madison is also currently pregnant with a second child, a boy, who will be due in August, Madison told People.
"I'm so excited," she said. "This time I know what to expect a little bit more. [That] makes it more enjoyable."
Despite having a little more knowledge during her pregnancy, Madison does have one fear about the birth of her baby boy. What is that fear? In a recent interview with People Now, Madison said her biggest fear with a new son was circumcision. Yes, circumcision — which is a very justified fear.
"I tell my husband, 'You have to do it! You have to handle that!'"
But Holly's fear about having a boy is completely warranted. Circumcision is now a very important and modern issue for pregnant mothers nowadays, bringing up the question of whether or not it is necessary for a baby. Any Google search about circumcision will bring up multiple answers — that circumcision is both good and bad — and should be heavily researched before parents come to a conclusion.
Circumcision is the surgical removal of the foreskin of the penis and according to WebMd, has its origins in religious rites but is now done for many different reasons. Circumcision is normally done on the first or second day after the birth. There are many pros and cons to the procedure and is typically up to the parent to decide what they think is the best for their child.
In 2012 the American Academy of Pediatrics announced that the health benefits of the procedure outweigh any risks. The group which is comprised of 60,000 pediatricians from across the nation stated that circumcision helps decrease urinary tract infections within a baby's first year of life by 90 percent. According to the AAP, it also reduces the likelihood of contracting HIV and HPV.
But some tend to disagree. "...Over the past 150 years, all kinds of medical benefits have been proposed as a result from cutting off foreskin and they have all been disproven," said Georgeann Chapin of anti-circumcision group Intact America in a statement to NPR.
According to Intact America's website, the circumcision rate in America today is down to 55 percent — much less than in years past and that circumcision is just not necessary.
Whether Madison's fears have to do with watching her son go through the procedure or the thought of having to do it, Madison brings up a very important question as to whether or not circumcision is necessary. The best thing to do as a soon-to-be parent is to do your own research and draw a conclusion based on that.