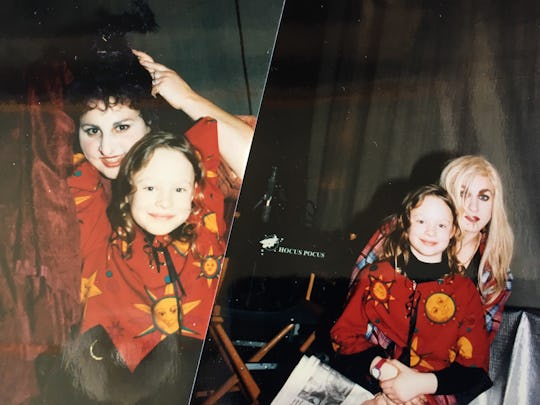 Thora Birch with Kathy Najimy and Sarah Jessica Parker on set of 'Hocus Pocus'
Hollywood's Most Powerful Women Helped Raise Thora Birch. Here's What She Learned.
Ever wonder what your favorite childhood stars are doing now? Same. In Romper's new series Claim to Fame, we're bringing you exclusive interviews with the faces of the past, contextualizing them in the present, and finding out what they've learned from their claim to fame.
It has been said that it takes a village to raise a child. But no one ever talks about what happens if that child becomes famous. What does the proverbial village do when someone so young tackles an industry that can tear you down just as fast as it can build you up? Wading through the murky waters of childhood stardom is no easy feat, many have been pulled in and come out barely clutching to their good-kid image, but in the case of actress Thora Birch, growing up in Hollywood proved to be a fairly positive experience. Her secret? Constantly surrounding herself with incredible female role models.
After taking on the role of Dani Dennison in the 1993 cult classic Hocus Pocus, Birch, who had mostly done strictly TV work up until that point, became almost as recognizable as that of her A-list co-stars. The film was initially considered to be a box office flop, but over the course of 25 years its accumulated quite a following among fans. Even now, its popularity only continues to grow — and by association, it turned Birch into an unforgettable child star. Though, when we speak on the phone, she admits that even today she can't fully understand exactly what it is that made this movie such a phenomenon — especially considering the essential premise centers around witches sucking the souls out of children. "When you think about it, it's kind of a dark story," she muses.
She's not wrong. From featuring a book that was made out of human flesh to the constant "virgin" talk, Hocus Pocus wasn't your typical Disney movie. But that edgy undertone was part of its appeal, and arguably one of the reasons why the Sanderson sisters have managed to put a spell on us for well over two decades. The experience had a profound impact on Birch as well, who says "it was one of the best times I've ever had making a film." And while it would've been easy for Birch's performance to be overshadowed by the three huge names leading the film, the part she played became just as iconic as the witches who were chasing after her. Unlike the docile character of Binx's sister, Emily, who willingly seemed to accept her grim fate at the hands of the witches, Dani was the exact opposite and refused to go down without a fight. "I think that was definitely my favorite part about the character of Dani," Birch says. "I was a sassy child and she was a sassy child and this was the one film in which being as sassy as I was was encouraged, so that was fun."
[I was] lucky to work on a film that was produced, written, and directed by all females.
Most of that sass was directed specifically at Winifred Sanderson, played by the legendary Bette Midler. Though, despite being arch enemies in the film, Birch and Midler had a very different relationship off-screen. In fact, Birch credits Midler as being a huge role model during the early years of her career. "I learned a lot from her as an actress, just watching her dedication and the amount of work and thought that she put into this character that she was creating," she recalls. Such fierce admiration is a far cry from the loathing these two emulated on-screen, but really that's a credit to Birch's convincing portrayal. Dani proved to be so much more than just Max's little sister. In fact, in the eyes of many young girls (myself included), she became the real hero of the story.
Before Buffy Summers started slaying vampires and Sabrina Spellman began casting spells, Dani proved that you don't have to be of a certain age to be a badass. She wasn't a helpless victim — she was a survivor who refused to go down without a fight. That message is just as important now as it was back then, perhaps even more so in an era of the #NeverAgain, #MeToo, and Time's Up movements. Which is why, as Birch tells me, she hopes to continue to see "young girls finding their voice at a very young age and learning, or just naturally having the desire, to make themselves heard in the strongest possible way."
Dani wasn't the only beloved character Birch inhabited during her childhood. Just three years after Hocus Pocus she went on to star as Tina "Teeny" Tercell in the 1995 coming of age film Now and Then. Centering around four best friends, the story explored the sacred bond of sisterhood as well as the struggles that come with adolescence. It's a time in Birch's life that means even more to her now, not just due to its empowering message of friendship, but also because she felt "lucky to work on a film that was produced, written, and directed by all females."
The movie was directed by Lesli Linka Glatter, who's worked behind the camera for numerous hit shows like Mad Men, Homeland, and Gilmore Girls, just to name a few. Additionally, two of Now and Then's producers were I. Marlene King (who went on to create Pretty Little Liars) and Demi Moore (who played the adult version of Gaby Hoffmann's Samantha in the film). It was important for Birch, looking back on it, to have a team of women pushing the movie forward. "That feeling on set of it being a female-led movie for young girls was a great thing to be apart of," she explains. "We were working alongside very powerful figures in the industry at the time."
Yet it's a feeling that still isn't experienced as much as it should, even 23 years later. Despite the massive success of Patty Jenkins' Wonder Woman and Greta Gerwig's Lady Bird, only 11 percent of the top-grossing 250 films released in 2017 were directed by women. It's a shocking realization, but only further proves how much Now and Then was ahead of its time, which makes Birch appreciate the experience all the more now. "I think that honing and developing that [influence of women] in all of our kids is healthy," she says, knowing that it helped shape her into the person she's become.
But even with all of her positive experiences, Birch decided to take some time away from acting, after spending two decades in the industry. "I was going through an exploratory phrase in my life," she says. "I was like, 'OK that was a chapter, is there any other type of chapter I'd like to explore?'" But after obtaining a degree in Legal Studies from Kaplan Online College, Birch still found herself drawn to acting. "I educated myself and it taught me a lot, but it also brought me back to who I really am, which is somebody who does love being a part of the storytelling process through these wonderful mediums that we have of film and television and cinema," she adds.
Now, 36-year-old Birch has four movies coming out in 2018 alone — including The Competition, Public Affairs, Above Suspicion, and The Etruscan Smile. "It's an exciting phase with more opportunities," she says. Considering the impression her characters made on viewers at such a young age, I look forward to seeing what new stories Birch will help bring to life.