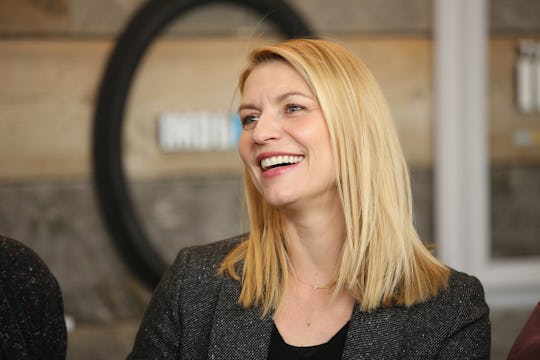 Rich Polk/Getty Images Entertainment/Getty Images
'Homeland's Claire Danes Is Pregnant With Her 2nd Child, & It's So Exciting
It's no secret Homeland star Claire Danes is a busy woman. From Danes' life at home with her 5-year-old son, Cyrus, to her work on television, she is always on the go. But just when you thought Danes' life couldn't get any more hectic, she announced on Wednesday via The Howard Stern Show that another baby is set to join her family. Yep, Claire Danes is pregnant with her second child, and she couldn't be *thrilled* about the news.
For those who follow Danes, it might seem a bit odd that she decided to spill the beans about her pregnancy to Howard Stern. Wouldn't Danes prefer to share the news via her publicist like she did with her first pregnancy? It's the most low-key option, after all.
When you're a celebrity, however, baby announcements don't always go as planned. Case in point: Danes felt compelled to fill Stern in on her pregnancy because he brought up filming sex scenes for Homeland. After Stern asked Danes if she goes into "diet mode" prior to filming nude, she responded, according to Us Weekly. "OK, so I'm gonna tell you. I'm seriously preggo. I'm deep into my second trimester."
The Stern reveal makes sense now, right? Danes couldn't exactly talk about her recent diets considering she's pregnant.
As for the baby's sex, Danes wants to keep that info on the DL for now. And it goes without saying that Danes and her husband, actor Hugh Dancy, deserve to enjoy this special time in private.
Danes did, however, open up about planning baby number two. "Yeah, this was planned," Danes shared with Stern, according to MSN. "We've been wanting another kid for a while, and it happened."
Still, as a much as Danes hoped to become a mom again, she's not one to gloss over the challenges of motherhood. In a September 2014 interview, Danes said on the topic of parenting, according to Marie Claire:
Being a mom is incredibly challenging, but we still feel a pressure to talk about it in very romantic terms. And it's not just that. We all have that resentment at times and anxiety about being trapped by the role, that responsibility. And then chemically it can run riot...And there's no 'off' button. [For me] that was the hardest adjustment. You always feel beholden to somebody...And for so long they're like koala bears, you just feel a physical responsibility to be there for them to cling to. It's pretty primal.
Adding to Danes' stress is Homeland's grueling filming schedule. "I was pregnant for the second season of Homeland, and as my baby progressed, the show got more action-packed," Danes explained, according to The Hollywood Reporter. "At one point, we were shooting in an old sewage factory. I was kidnapped, I was chained to a pipe, it was 4 a.m., I was 7-and-a-half months pregnant, and I was like, 'This sucks.' I had to do love scenes pregnant. That was really unpleasant."
Uh, yeah. The whole sewage factory thing sounds incredibly awful.
Although shooting Homeland while pregnant isn't the most ideal scenario for Danes, it looks like she had to relive the experience all over again with baby number two. "And that's a wrap on the filming of Season 7 of this, here, Homeland," Danes captioned a behind-the-scenes snap on March 29. "And now, we nap. #homeland #rva #budapest."
Well, one can only hope that this late-night scene didn't involve Danes being chained to a pole. Fingers crossed.
Challenges aside, this an exceptionally exciting time for Danes, Dancy, and Cyrus. It's clear Danes wanted another a child for a while now, and her second pregnancy is something to celebrate.
Check out Romper's new video series, Bearing The Motherload, where disagreeing parents from different sides of an issue sit down with a mediator and talk about how to support (and not judge) each other's parenting perspectives. New episodes air Mondays on Facebook.