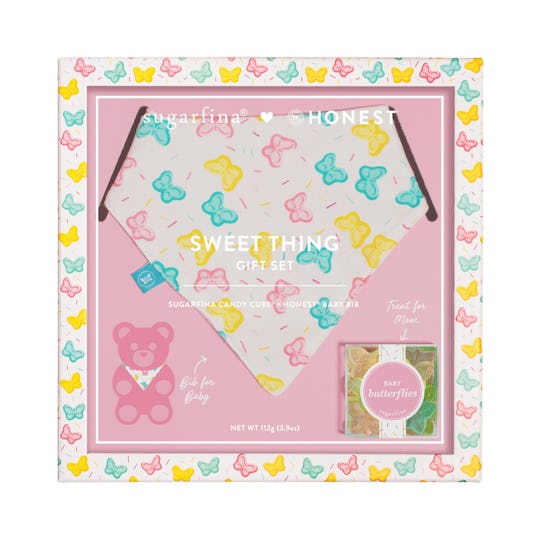 Courtesy of Sugarfina & The Honest Company
Need A Baby Shower Gift? This Honest X Sugarfina Collab Is As Sweet As It Gets
The most precious collaboration of the year just happened, and new parents everywhere are going to love it. Basically, Sugarfina & The Honest Company partnered to create the perfect collection of baby gifts. It's going to make baby showers cuter and sweeter than ever before.
The Sugarfina ♡ The Honest Company collection is perfect for any new parents who need a little pick-me-up. It features two adorable candy patterns, Boo Bear and Sweet Thing, that adorn bibs and diapers made to the Honest Company's high standards. Plus, parents can enjoy Mama & Baby Gummy Bears and Baby Butterflies, gorgeous candies that can only come from Sugarfina. And where can you get these treats? Shopping online is the most reliable option, but these special gifts will also be available at select Nordstrom and Sugarfina boutique locations.
A specialty candy shop, Sugarfina creates upscale treats for grownups. With specialty products such as champagne gummy bears and marshmallow cereal chocolate bars, this company is serious about sweets. It's the gorgeous candy you might find at a fancy wedding or other event.
Founded by Jessica Alba, The Honest Company is a wellness brand that creates safe, effective products for childcare, personal care, cleaning, and more. Plus, everything from the patterned diapers to the lotion bottles are just adorably designed.
When these two brands combine, the results include diapers and bibs with adorable candy prints, as well as specialty candies that are just begging to attend your next baby shower. Although it's only available for a limited time, this collaboration is honestly super sweet.
But the cute bibs are only the beginning of this collaboration. There's so much more adorableness ahead, you may want to brace yourself.
Plus, if you're hosting a baby shower any time soon, the Sugarfina ♡ The Honest Company collection has you covered.