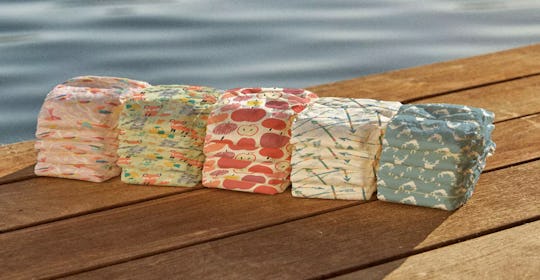 Honest Company
OMG, You Can Get An Honest Company Diaper & Wipes Bundle At A *Huge* Discount
Diapers are usually one of those things you just hold your nose and buy — and, well, change. However, sometimes, there's a deal so good, you want to shout about it from the rooftops. That's definitely the case with the Honest Company's Labor Day diaper sale, which is so good you'll be skipping away from it. These cute diapers, designed to be gentler on baby and the environment, are steeply discounted for the duration of the sale. I'm talking stock-up prices.
This year, The Honest Company is promoting their newly designed diapers between Sept. 4 and Sept. 11. The sales will make you go gaga. The biggest deal of the sale is the diapers and wipes bundle sale. For only $79.95, instead of the usual $96.45, you get seven packs of eco-friendly, super-absorbent Honest diapers and four packs of unscented, plant-based Honest wipes. The part that makes this a major deal? You get $20 off your first shipment. That's anywhere between 224 and 126 diapers per pack depending on the size, and there are 72 wipes per pack for basically 50 percent off. These wipes aren't crappy, rip-in-your-hand-and-make-your-hand-stinky wipes either. The wipes from the Honest Company are thick, wide, and really great at wiping up all the unmentionable substances that they inevitably meet. Honest wipes are also unscented, making them more gentle for babies with sensitive skin.
The coolest thing about these diapers, apart from their great protection against leaks and the way they keep your baby dry, is that they come in all these cool patterns and colors. Before Honest, the only pattern you could get on your baby's diaper was the thin yellow line down the front of the newborn diaper that changes colors when your baby pees. It's a cool feature and all, but it's no pumpkin butt is all I'm saying.
The folks at Honest Company are also doing their best to make disposable diapers as environmentally friendly as they can. It's not easy, especially when you consider that diapers are just buckets of moisture-wicking gel wrapped in some papery-plastic fabric, but they are. Because, let's face it, most of us do not have the time or the inclination to wash and dry tons of reusable diapers, nor can we afford to use a service. Disposable diapers are the option of choice for a reason. It's good to see that a company is at least attempting to do better by Mother Earth.
I love the Honest Company. I love how gentle and softly scented everything is. I love their soaps, and I also love their shampoos. I may be in my 30s, but I'm a big old baby when it comes to my super sensitive skin. Not to mention their nipple balm. It's "supposed" to be used to soothe angry, cracked nipples after they've taken a beating from breastfeeding, but I use it on my cuticles and dry knuckles, too. I wash my hands a ton, and it is so soothing. I can only imagine how nice the diapers are. I mean, I'll get back there eventually, but for now I have to take a baby's word for it, you know what I mean?
The Honest Company's Labor Day diaper sale is a huge deal, it undercuts even their biggest competitor by a large margin, and it has the added benefit of being bundled and sent to your house, allowing you to make one less trip out to the store. That's huge when you have a tiny one at home. Take them up on this deal, because it's for a limited time only.