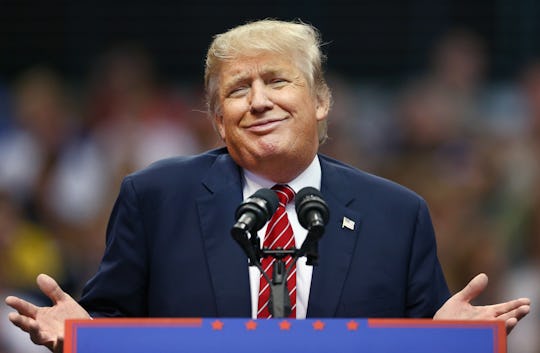 Honest Tea Is Removing A Donald Trump Quote From Bottle Caps & His Fans Have Predictably Pledged To Boycott
For Honest Tea, a routine change turned into a politicized social media crisis. CNN Money reported Wednesday that Honest Tea is removing a Donald Trump quote from their bottle caps. The quote is, "If you're going to think anyway, you might as well think big." Some Trump fans interpreted the decision as a political statement, and Honest Tea is doing damage control.
According to CNN Money, the quote first got attention when Paul Shapiro tweeted, "Funny that the bottle of @HonestTea I just bought quotes @realDonaldTrump on the cap." Another Twitter user, Susan Hobbins responded and added, "Oh no! Recall." Honest Tea then responded to both, writing, "Don't worry! We're in the process of having his quote removed from our caps." When Trump fans heard about the company's decision, there was serious blowback. Some tweeted to say that they won't buy Honest Tea anymore; the company is responding to many Twitter users individually, claiming that the removal of Trump's quote was already in progress as part of a standard bottle cap revamp.
Co-founder Seth Goldman posted to his blog on Monday, explaining why Trump's quote won't be found on bottle caps from now on. He wrote that quotes have had a place on the caps since 1999, often serving as points of inspiration for consumers. Honest Tea updates them "every 12-18 months," and the company had already determined what its next run of quotes would be when Trump's words got attention on Twitter, according to Goldman's blog post:
Honest Tea is a tea for all parties — we welcome anyone who wants to drink our organic iced teas because we know that when people choose organic and Fair Trade tea they are making an impact, regardless of their party affiliation.
In another tweet, Honest Tea said its newest quotes are all "from people who have not been alive for 100 years," so don't expect any words of wisdom from more presidential candidates. Unfortunately for them, plenty of Trump supporters say they're still boycotting the company.
According to their website, Honest Tea got its start when Goldman had the desire to develop beverages that weren't too sweet or too bland. Working with his Yale School of Management professor, Barry Nalebuff, Goldman started developing drinks made with real tea leaves. Now, Coca-Cola owns the company. Their products include organic iced teas, sodas, refreshers, and juice pouches for kids.
Honest Tea continues their mission to create fair trade, nutritious beverages. Unfortunately, it looks like they've made an enemy in Trump's fan base.
Image: Tom Pennington/Getty Images News